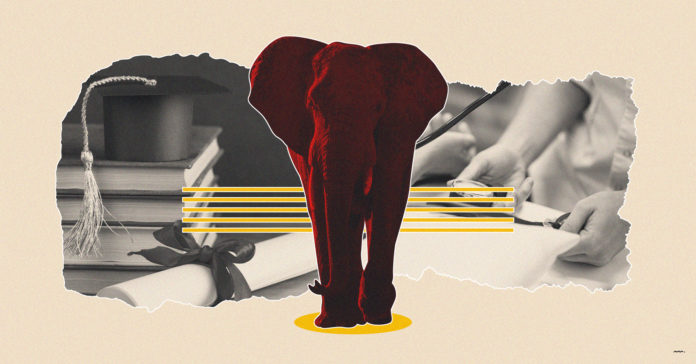 As Texas leads a coalition of Republican states in arguments before the U.S. Supreme Court to topple the Affordable Care Act, some state lawmakers were rushing to file bills to expand Medicaid in Texas under the federal health care law.
Increased access to affordable health care and more funding for education are among the kitchen table issues that have long been priorities for Democrats. This year's election season saw numerous Republicans attempting to sit at that table, too.
More than 500 bills were filed on Monday, the opening day for prefiling bills for the 2021 legislative session beginning on Jan. 12. Many of those bills deal with health care, including expansion of Medicaid tied to the Affordable Care Act, also known as Obamacare.
Texas leads the nation with the most uninsured residents, 5.2 million, or 18.4 percent. The number of uninsured Texans increased for the third straight year in 2019.
Despite the statistics, Texas is one of only 12 states that have failed to expand Medicaid, a move that could enroll nearly one million uninsured Texans and bring an additional $5.4 billion in federal funds for health care to the state. The cost of participating is estimated at $6.3 billion, with $650 million to be paid by the state.
During this year's campaigning, many Republican Congressional and state house candidates combined their media attack ads with frothy promises of problem solving and compassion that may or may not be kept now that the campaigning is finished.
In her unsuccessful attempt to reclaim the Dallas Congressional seat won by freshman Colin Allred (D-Dallas) in 2018, Republican Genevieve Collins, promised, "In Congress, I will always fight for those with pre-existing conditions."
Republican Beth Van Duyne went a step further in a television ad for her Congressional campaign in which she described her own "intensely personal" story of battling for health care coverage for her infant daughter and promised to fight to protect preexisting conditions. Van Duyne narrowly defeated Democrat Candace Valenzuela in a bitter contest for the open District 24 seat in the Dallas-Fort Worth area.
Republican State Rep. Angie Chen Button (R-Garland), whose suburban Dallas seat was a top target for a Democratic flip, also pledged to support pay raises for teachers and improve access to health care as part of her successful reelection run.
Other Republicans expressed support during the election campaign for expanding Medicaid as a way to help Texans who lost their jobs and health insurance coverage due to the pandemic.
But with the campaign over and Democrats' failure to take control of the Texas House, it remains to be seen whether Republicans will be willing to spend money on expanding Medicaid as the state faces an enormous pandemic-inducted budget shortfall.
Besides, many Republicans are leery of Medicaid, a system described by the conservative Texas Public Policy Foundation as being "rife with middlemen who are driving up the cost of care. Instead, they prefer solutions such as expanding use of telemedicine, allowing licensed out-of-state physicians to practice in Texas and allowing doctors to dispense medication directly to patients.
The foundation's ideas are gaining traction among some Republican lawmakers, who acknowledge that affordable health care is more important than ever due to the pandemic.
During a recent panel discussion on health care, State Rep. Tom Oliverson (R-Cypress), vice chair of the House Insurance Committee, identified affordability as the most critical barrier to expanding health care coverage. Improving price transparency is a step in that direction.
"We have a robust insurance market but unfortunately it locks too many people out because it's just not affordable," Oliverson said in a statement. "We need to find a way to get those costs down so that folks will find value in having insurance coverage.
"Because the patient is kept in the dark until after the service is provided, we do not have a cost-effective health care delivery system," Oliverson said.
State Rep. James Frank (R-Wichita Falls), chair of the Human Services Committee, has said increasing access to care can be accomplished through expanded use of telemedicine and allowing out-of-state practitioners to help make up for the shortage of providers in specialties such as mental health and children's health services, particularly in remote parts of the state.
Democrats' priorities, meanwhile, still have expanding Medicaid at the top of their list of priorities, especially now that Texas is dealing with the COVID-19 pandemic.
"We know that we could probably insure as many as two million Texans overnight with Medicaid expansion," stated State Rep. Chris Tuner (D-Grand Prairie), chair of the House Democratic Caucus.
Other Democrats are equally committed to health care expansion and investing in education.
"The priority is ensuring investments made in the classroom last session are maintained," said State Sen. Beverly Powell (D-Burleson). "Last session, we saw broad support across all political spectrums for public education and I am hopeful we will see the same this session with a similar partisan breakdown in both chambers.
"There is growing momentum for taking a fresh look at the expansion of health care," Powell said. "As the COVID-19 pandemic continues, ensuring access to health care must be a top priority and cannot be a partisan issue."
State Sen. Nathan Johnson (D-Dallas) is hopeful Republicans stand by the promises they made on the campaign trail.
"Access to health care and keeping our financial commitment to public education remain the central concerns for the coming legislative session," Johnson said. "These are — or should be — nonpartisan issues. But addressing them responsibly will require a bipartisan effort. We'll have to overcome substantial political inertia and history of embedded misconceptions. I think many Republicans are eager to get there."
Despite Democrats' commitment to expanding Medicaid, that option could be off the table if Texas Attorney General Ken Paxton and his cohorts from other Republican states prevail with their argument to repeal the Affordable Care Act.
"If the attorney general's misguided lawsuit ultimately results in eliminating the ACA, it would have devastating effects on Texans and people across the country: 20 million Americans would lose their health care coverage, insurance companies would be allowed once again to discriminate against people with pre-existing conditions, and seniors in Medicare would pay more for prescriptions," the health care advocacy group Even Texan said in a statement.