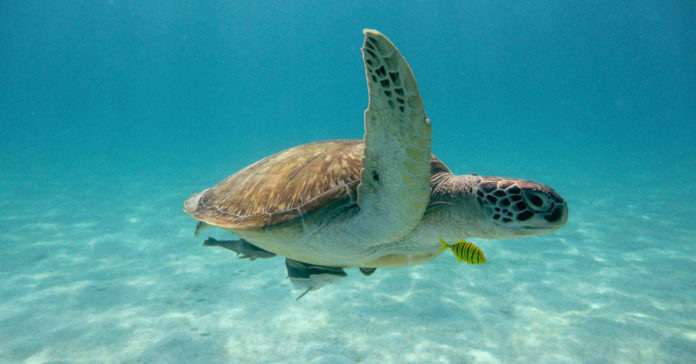 The life of a sea turtle can be fraught with danger. They might get bitten by a shark. They might mistake a floating plastic bag for jellyfish and eat it. Or, they might get tangled in a fishing line in the Gulf of Mexico and stranded on the Texas shoreline.
Texas A&M University at Galveston's Gulf Center for Sea Turtle Research is set to open a new short-term care hospital for endangered Kemp's ridley sea turtles later this fall.
The hospital, a partnership between A&M and the Houston Zoo, will be used for the rehabilitation and release of stranded, ill or injured sea turtles.
Kemp's ridley turtles have a dark gray or gray-green upper shell, a tan or cream colored lower shell and a spotted head. These small sea turtles are just over two feet in length and weigh 75-100 pounds. They are found in the waters off the Texas and Mexico coasts.
A campus-based wetlands facility is currently being "retrofitted to act as the hospital location and will house a number of industrial turtle-sized tubs, along with the necessary water filtration and filling equipment," according to the university's newsletter, Texas A&M Today.
That's not all. Plans are also in place for a long-term state-of-the-art sea turtle rehabilitation hospital and educational outreach facility, which is expected to be developed within the next several years, according to Texas A&M Today.
Once built, the facility will provide opportunities for not just turtles in need but also for school groups to learn about the marine habitats of Galveston Bay, the upper Texas coast and the western Gulf of Mexico that support sea turtles, said Dr. Christopher Marshall, marine biology professor and GCSTR director.
The new sea turtle facilties would not only create an upper Texas coast sea turtle community but would, hopefully, also would generate tourist revenue to support the sea turtle conservation programs and hospital.
The university newsletter states that the facility will be a partnership with the National Park Service – Padre Island National Seashore, U.S. Fish and Wildlife Service, Texas Parks and Wildlife Department and the Galveston Bay Area Chapter of the Texas Master Naturalists.
You can donate to the Upper Texas Coast Sea Turtle Hospital and Educational Outreach Center here.