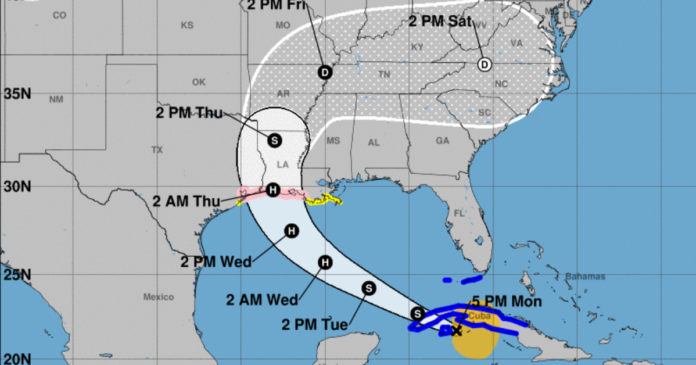 More than 70 members with the Texas Army, Air National Guard, and Texas State Guard with the Texas Military Department have been activated and are prepositioning throughout the state of Texas ahead of Tropical Storm Marco and Tropical Storm Laura. Additional personnel remain ready to respond in impacted areas as needed.
Multiple Texas Army National Guard ground transportation teams with high-profile vehicles are currently moving to support local and state agencies. Currently, UH-60 Blackhawks and UH-72 Lakota air crews have been alerted at Austin-Bergstrom International Airport and San Antonio to assist with any emergency search and rescue or emergency evacuations. Additionally, Texas State Guard service members are ready to provide assistance with local shelter and logistical operations in the affected counties.
"As the situation develops, it is imperative that Texans who live on the Gulf Coast and in Southeast Texas pay close attention to weather alerts and heed warnings from local officials," said Gov. Greg Abbott. "Property and belongings can be restored, but lives cannot. I call on all Texans who may be in harm's way to put their safety and their family's lives above all else and adhere to the guidance and warnings from emergency management officials."
"Storm season is always full of surprises for Texas and for our fellow states on the Gulf of Mexico, as seen in this instance by these two storms being in the Gulf simultaneously," said the Adjutant General of Texas, Maj. Gen. Tracy R. Norris. "We are pre-positioned to assist Texans in need, and to mobilize in support of our neighbors if requested."
Tropical Storm Marco was downgraded to a tropical storm Sunday. It is expected to make landfall in Louisiana late Monday.
Tropical Storm Laura is likely the bigger threat to Texas. Forecasters expect it to rapidly intensify as it moves into the Gulf of Mexico from Cuba and could make landfall along the Texas Coast as a Category 2 or Category 3 Hurricane, producing high winds and life-threatening storm surge.
The Federal Emergency Management Agency on Monday approved Abbott's disaster request, which makes available aid for evacuations and shelters. 
With there being a lot of uncertainty about how Laura and Marco might interact, many along the Texas coast are taking no chances.
The Texas Department of Criminal Justice has announced it is evacuating three secure facilities and a portion of a fourth facility, along with three residential facilities in the Beaumont and Jasper areas.
The Beaumont Residential Reentry Center, two Transitional Treatment Centers, the Gist State Jail, LeBlanc Unit, and portions of the Stiles Unit in Beaumont, and the Goodman Unit in Jasper began evacuations Monday morning. The moves will affect approximately 3,400 offenders and 200 clients assigned to these facilities and is expected to be completed later today.
There have also been reports of at least one nursing home evacuation.
In Harris County, Judge Lina Hidalgo is urging residents to prepare for Laura. That means filling cars' gas tanks, securing outdoor furniture, getting your storm kit ready and checking on whether you are in an evacuation zone. 
Starting Tuesday, residents are urged to stay off the roads as much as possible to help with traffic as coastal residents travel inland. Port Arthur Mayor Thurman Bartie is expected to issue a mandatory evacuation of the city, beginning at 6 a.m. Tuesday, according to 12 News Now. 
Galveston County has issued a voluntary evacuation for residents in low-lying areas and west of the end of the seawall.
In addition to face masks and hand sanitizer needed to present the spread of COVID-19, your storm kit should include: 
water (one gallon per person per day for at least three days, for drinking and sanitation)
Food (at least a three-day supply of non-perishable food)
Battery-powered or hand crank radio and a NOAA Weather Radio with tone alert
Flashlight
First aid kit
Prescriptions
Cash
Extra batteries
Manual can opener (for food)
You can download the Recommended Supplies List here.
It was three years ago this week that Hurricane Harvey dumped 50 inches of rain in the Houston area, killed 68 people and caused about $125 billion in damage in Texas. There have been a considerable number of flood improvements since then, but thousands of residents are still awaiting funding for repairs to their homes. The Texas Supreme Court on Friday cleared the way for state officials to resume their Hurricane Harvey home repair program in Houston. The Texas General Land Office stepped in to take over the program after three years of delays by Mayor Sylvester Turner's administration.