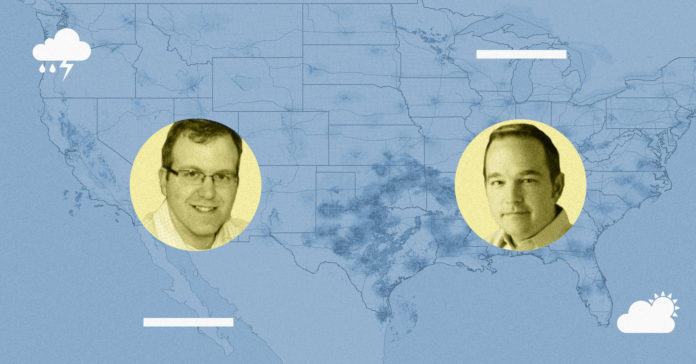 Houston was in the crosshairs of not one but two hurricanes this past month, hurricanes that might have combined into a superstorm. Breathless reporting lavishly detailed the possible destruction that would be wrought on the Bayou City almost three years to the day after Hurricane Harvey brought catastrophic flooding and wind. As the big networks shifted into their usual Armageddon-type reporting, many residents were turning off their TVs and opting for more matter-of-fact reporting.
The Space City Weather blog has become a, pardon the pun, port in the storm of the over-the-top productions that modern big storm reporting has become. The Weather Channel has immersive holograms that rival Triple A video games. Space City Weather, on the other hand, has meteorologists Eric Berger and Matt Lanza, two guys who have dedicated themselves to "hype-free forecasts."
"During times of high stress, people are desperate for information," Berger said. "Increasingly they look online. It seemed to me if I could provide some reliable basic information to people, then that would be something they could appreciate."
On a normal day, Space City Weather gets 5,000 to 10,000 visitors, which doesn't include people who skim the newsletter or read Berger and Lanza's updates on social media. On Aug. 25, the site had about 520,000 visitors, according to server administrator Lee Hutchinson.
Berger has been a journalist in Houston for 20 years, previously serving as the science writer for the Houston Chronicle. He arrived in town just in time for the devastation of Tropical Storm Allison, a level of storm he had never witnessed before. As his interest in the weather grew, he watched Houston go through various scares. There was the weirdness where more people died fleeing Hurricane Rita than did so from the actual storm, as well as Hurricane Ike and the Tax Day and Memorial Day Floods. Berger began blogging about weather for the Chronicle in a surprisingly popular column. After getting his meteorologist certification, he opened Space City Weather with Lanza.
The goal is to peel back the anxiety produced by the extremes seen in a lot of other reporting as well as online. Hurricanes are obviously stressful events for people in Houston, something that has become clear to anyone who has just tried to buy bread once a named storm has the city within its cone.
During a major event like the recent miss with Hurricane Laura, Berger and Lanza update their site as often as four times a day as new data becomes available rather than offering a constant barrage of content for the anxious people hitting refresh. This allows a reader time to process the information in a healthy way. Some days, the site may go a week without an update if there is no particular weather event that needs attention. If previous reports still hold true, Space City Weather lets them lie instead of trying to find new angles on, say, a heat wave.
Berger and Lanza tackle the problem of panic with calmness and reason, explaining the differences in storm models used by different tracking agencies in a way that is wonky but accessible. It not only delivers a nuanced reading of the weather possibilities but involves the readership in a learning experience that gives them a sense of control.
"We try to work without the hype and nonsense you find in other places, like social media," said Berger. "If you want to find someone forecasting a category five hurricane about to hit Houston, you can. But if you want something that will actually help you and your family, we want to provide that. When we told people that Harvey was going to bad, they took that seriously. People knew we were not in the business of making things up."
From all indications, the public finds it refreshing to see a place on the internet delivering public safety information. A quick look at the Space City Weather Facebook page shows almost no storm denialists or other cranks who have come out of the woodwork since the coronavirus pandemic started.
"It's remarkable," Berger said. "The feedback is almost universally positive and thankful. People rely on us. What I've come to realize is that people don't view us as a media site. Weather is pretty nonpartisan. We don't get hardly any backlash beyond a few snarky comments. We're more like a community institution. We're not the government, just sort of alongside it. Sort of like TranStar."
As we sit at the peak of the Atlantic hurricane season, Berger and Lanza still have plenty to keep an eye on. Berger was willing to give us his typical restrained take on the current situation in the Gulf of Mexico. Though a few low-pressure systems are forming, they are expected not to develop into tropical depressions. Best yet, a cool front from the plains might be headed our way to not only reduce the sweltering temperatures but drive the possible storms away. Of course, they'll let us know if that changes.
"I know there's fierce competition for eyeballs and attention," said Berger. "If it's more extreme, people are more likely to watch. We step in as the alternative and just let people know what's happening."