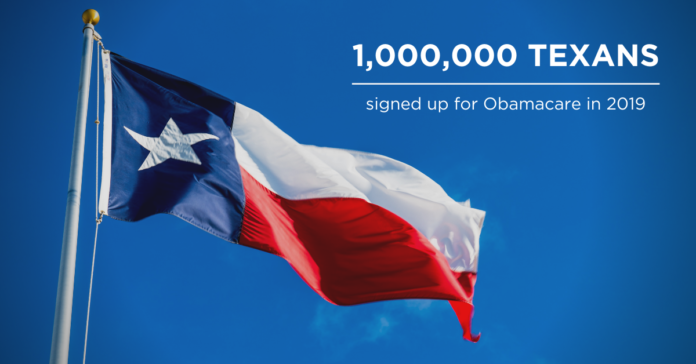 The Affordable Care Act, also known as Obamacare, has faced a hostile Trump Administration determined to dismantle it since President Trump took office in 2016. But many Texans rely on the ACA, and last year, one million Texans signed up for marketplace insurance plans through the program's exchange in 2019.
According to the Centers for Medicaid and Medicare Services, 1,087,240 Texans signed up during the two enrollment periods, one of the highest rates in the country. Roughly 500,000 did so in a single week.
This was in spite of the Trump Administration slashing millions of dollars that were previously earmarked for community outreach to let people know about the program and how to take advantage of it. The price of the average monthly premium has dropped across the country to $612 from $621 in 2018. However, new enrollment fell from 27 percent to 24 percent, and it's estimated that one in six Texans had no health insurance.
In Texas, the cost-sharing reductions (CSR) are generally added to the premium rate of silver level plans. That means that while Texas rates are generally high, their subsidy rates are also high for those that qualify for them because silver-level plans are how the ACA measures which subsidies to offer.
Some Texans find the process frustrating. Sarah Ulloa of Galena Park, Texas had to enroll by phone when the online marketplace was unable to verify her identity.
"I'm still trying to sign up," says Ulloa. "I have to call and do it all over the phone because they can't verify my identity…They have done this to me the past few years. I don't know how it's so hard to verify my identity when they have all my social security number, my maiden name, everything. It's ridiculous."
Still, many people continue to use the program to get affordable care. It remains a great option for Texas, the state with the highest number of uninsured people. Even for people who have insurance plans through their employer, the marketplace offers some respite.
"My job offers health insurance, and I have it for me, as it's relatively affordable for a single person," says Wesleann Mendell of Austin, Texas. "Adding a partner triples the cost, so my husband got on the marketplace when it became available, as his company did not offer [coverage]. When we had kids, we just added them to his plan on the marketplace as if he was a single parent, because for one adult and two kids, we've paid between $300 and $500 per month over the years. The family plan at my office is $1,200 per paycheck paid twice a month, so completely not affordable."
Texas continues to have half-implementation of President Obama's signature health care reform thanks to the state's Republican leadership failing to expand Medicaid under the law.
This has led to a gap between people eligible for the state's famously stringent income requirements (people without children, for instance, are mostly ineligible in the state) and the expanded access present in the law.
As a result, many people who could take advantage under full implementation do not have the option. At least two Texans told us that they had actually left the state to live elsewhere specifically so that they could use the Medicaid expansion.
If the state expanded Medicaid, an estimated 1.2 million people would be eligible for insurance. Over $100 billion in federal funds are being left on the table by not accepting the expansion.