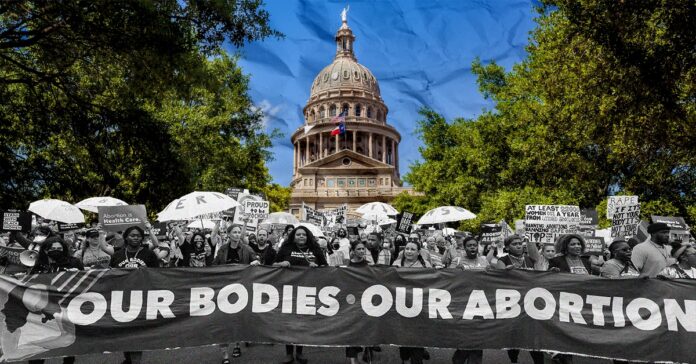 In Texas, infant deaths fell steadily by 15 percent from 2014 to 2021. Since Texas banned abortion after six weeks in 2021, infant deaths have spiked by 11.5 percent. Deaths by genetic defect have risen by 21.6 percent.
The grim effects of the Republican war on reproductive health were obtained from the Texas Department of State Health Services by CNN in a freedom of information request. The state has been very slow releasing data about the effects of the near-total abortion ban. A report on maternal mortality from the state government has been long delayed, but outside studies show that Texas has one of the worst maternal mortality rates in the country. With pregnant Texans either unable to terminate dangerous pregnancies or having to risk travel out of state to seek care, maternal deaths are likely to rise.
When it comes to infant mortality, the spike in deaths cannot be explained away simply by the increased number of births. Births in Texas are up by about 10,000 in 2022, a logical result of fewer pregnant people being able to access reproductive care. However, experts that CNN spoke to said that high-risk pregnancies are much more common now that abortion is no longer widely available.
"We all knew the infant mortality rate would go up, because many of these terminations were for pregnancies that don't turn into healthy normal kids," Dr. Erika Werner, the chair of obstetrics and gynecology at Tufts Medical Center told CNN. "It's exactly what we all were concerned about."
Nurses in neonatal ICUs that we spoke to confirmed that they are seeing far more serious genetic anomalies on their units.
The Texas abortion ban is vaguely worded and contains almost no helpful medical language. While provisions are made to save the life of the mother, there is significant legal debate about what that phrase means. There have been several high profile cases of pregnant people nearly dying from conditions where abortion would normally have been performed immediately. Doctors fearing criminal charges will usually not perform abortions until the fetus's heart has stopped or the pregnant person is in critical condition.
Currently, a group of Texas women and doctors are suing the state over the abortion ban. In all cases, they are women who wanted to carry a pregnancy to term. Either their fetuses developed issues where they could not survive outside the womb, or the women suffered complications that put their lives in grave danger if the pregnancy continued.
Three of the women testified this week in the first hearings. The case, Zurawski vs. State of Texas, could offer pregnant Texans and their doctors temporary relief in for medically necessary abortions.
However, even if Zurawski does enable abortions in extreme cases, the spike in infant mortality is likely to continue. The reasons that people seek abortions are varied, but usually involve some kind of vulnerability that pregnancy would make worse. These include being a minor, in an unsafe relationship, or unable to afford care. All these factors make infant mortality more likely, and Texas's abortion ban does nothing to address any of them.