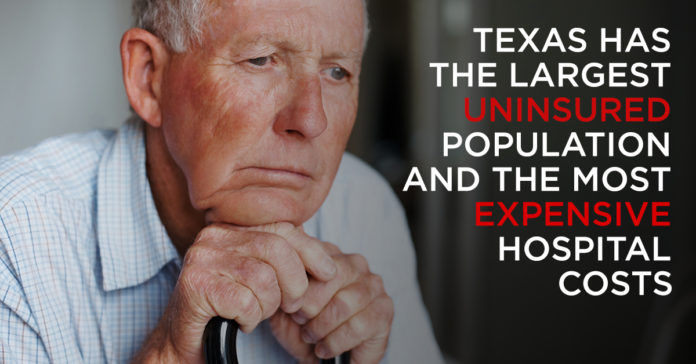 Almost 10 years after the passage of the Affordable Care Act, Texas still ranks dead last when it comes to healthcare costs and access.

This is despite the fact that the state is home to both the world's largest children's hospital and the world's largest cancer hospital.

The Texas Legislature refused to pass any meaningful reform last session to address this crisis. One bill that was put forward would have expanded Medicaid eligibility to cover a million more Texans.

Another bill would have created a zero-cost policy to ensure thousands of low-income children don't lose Medicaid coverage due to bureaucratic red tape.

A third bill would have reduced the dismal maternal mortality rate in Texas by extending Medicaid maternity coverage to 1 year postpartum, which was the #1 recommendation by the state's own task force on maternal mortality and morbidity.

Studies show the problem is getting worse
A group of recent studies show that not only does Texas have the largest uninsured population, it also has the most expensive hospital bills.

A report released by the U.S. Census Bureau on Tuesday, Sept. 10, found that about 5 million Texas residents don't have health insurance. Unfortunately, the number of uninsured Texans is only increasing.

In 2016, about 16.6 percent of the Texas population was uninsured. In 2017, the uninsured rate climbed to 17.3 percent. In 2018, almost 18 percent of Texans were without health insurance.

This means an additional 186,000 Texans became uninsured during the time between the 2017 and 2018 survey.

No matter how the population data is sliced and diced, Texas comes out on the bottom when it comes to health insurance.

About 19 percent of the state's under-65 population is uninsured, with 32 percent of Texas' 19-34 year-olds lacking health insurance, according to a report from the Urban Institute.

It's worth noting that, on its own, Texas accounts for 8.6 percent of the total U.S. population and 1.3 percent of the U.S. population without health insurance.

The only state with a larger population than Texas is California, which has 2.8 million people without health insurance. California's uninsured account for 7.2 percent of the state's population.
Texas refuses to expand Medicaid coverage
Texas is one of 14 states that refuses to expand Medicaid coverage. Of those 14, only Florida has more than 2 million people without health insurance.

To provide a sense of scale, the District of Columbia has 22,000 uninsured people. Vermont has 25,000 people without health insurance. Rhode Island has 42,000 uninsured people.

The entire uninsured populations of Vermont, Rhode Island and Washington, D.C. could fit into Kyle Field and it would be considered a "low attendance" Aggies game.

Currently, there are only 4.1 million in Texas enrolled in Medicaid and/or the Children's Health Insurance Plan (CHIP). That's 4.1 million people in a state with 29 million people.

California has a population of 39 million and a Medicaid/CHIP enrollment of 11.6 million. One common argument for not expanding Medicaid is the idea that it would take people out of the workforce.
Expanding Medicaid would increase Texas workforce
However, a recent study of low-income Texans by the Commonwealth Fund found that most people eligible for a Medicaid expansion would remain employed.

Only 3 percent of low-income Texans thought gaining Medicaid would make them less likely to work, according to the study. Conversely, 19 percent of Texas' low-income residents would be more likely to seek out employment.
The Commonwealth Fund also found that 42 percent of low-income Texans believe that a Medicaid expansion would help their financial situation. Given that Texas has the highest hospital bills in the nation, it makes sense that low-income residents feel that expanding Medicaid would help their pocketbooks.

A recent study from Johns Hopkins found that, on average, Texas hospitals charge 6.4 times the maximum Medicare can reimburse. As high as the average cost of care is in Texas, the price of a hospital visit is sky-high in the Rio Grande Valley.

In Brownsville-Harlingen the cost of going to the emergency room is 9.4 times higher than Medicare can pay. All along the Rio Grande, the cost of healthcare is astronomical.

Four of the top five metropolitan areas with the highest hospital bills are on the Texas side of the U.S.-Mexico border.

In addition to hospitals in Brownsville-Harlingen, those in Laredo, El Paso, and the McAllen-Edinburgh-Mission area are charging an arm and a leg to get an arm or a leg looked at.