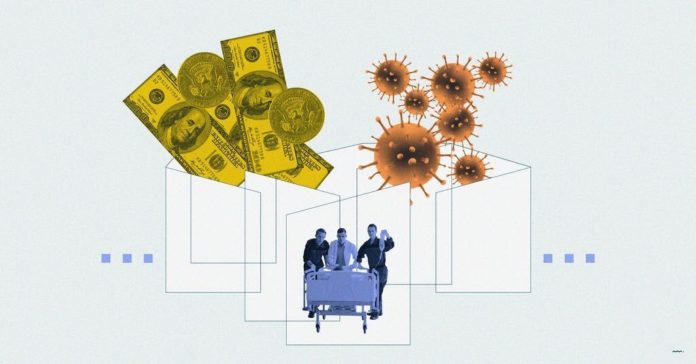 Health care is one of the few industries in America where being sold out doesn't mean you aren't losing money hand over fist. Despite intensive care units reaching and, in some cases, exceeding capacity, Texas hospitals are in dire financial straits. However, the situation is not as dire as it was in March.
Moody's has been tracking the financial prospects of American hospitals since the pandemic began. Back in March, Jonathan Kanarek and Jessica Gladstone of Moody's predicted that earnings would decline over the next 12 to 18 months. The primary reason is that caring for patients infected with COVID-19 is expensive and generally unprofitable.
"The negative outlook for the U.S. for-profit hospital sector reflects [earnings] contraction in the low-to-mid single-digits over the coming year or so, down from our previous forecast of 3%-4% growth," said Kanarek at the time. "The upsurge in coronavirus patients will lead to deferrals of more profitable, elective procedures, as well as higher staffing costs and a greater volume of patients insured by Medicare, which pays lower reimbursement rates than commercial insurance."
Moody's has continued to monitor the situation, especially in regard to Texas hospitals. In new reports done by Kanarek and Gladstone sent to Reform Austin by the company, they note how resuming the suspension of non-emergency surgeries and procedures are having a direct impact on several Texas hospital systems.
Gov. Greg Abbott moved Thursday to suspend elective surgeries in more than 100 additional counties. Previously, the order applied only to Bexar, Cameron, Dallas, Harris, Hidalgo, Nueces, Travis and Webb counties.
The governor's order does give doctors some wiggle room when it comes to determining whether a procedure is essential, but overall it cuts off a considerable source of profit for hospitals at a time when their resources are already strapped because of the exploding patient population from the coronavirus. However, some new surgeries are happening, and hospitals are more prepared now than they were when the pandemic began.
"We believe that these larger for-profit hospital systems are better positioned now than they were in March/April to handle a surge in COVID-19 patients," the report says. "These companies are geographically diverse and have experienced surges in COVID-19 patients in other markets, even though Texas was not a hot spot earlier on. For example, AHP Health Partners also has a significant presence in New Jersey, which experienced significant COVID-19 volumes earlier on in the U.S. pandemic. This gives companies better insight into how to manage staffing, the flow of patients and preserve bed capacity. Further, many of these companies have acquired significant amounts of personal protective equipment in recent months. We believe that such factors, along with significantly greater access to COVID-19 testing and faster lab turnaround times, will enable the larger hospitals to be able to manage surging COVID-19 patients without the significant operational disruption that many hospitals witnessed earlier in the pandemic."
The bad news is that these rosier numbers are mostly for the for-profit hospitals. Moody's notes that the smaller, nonprofit health systems will likely have less resilience in weathering the financial impact of the outbreak.
Still, prospects are brighter than they might appear. Moody's notes in a separate report from earlier in June that May showed considerable improvement in for-profit hospitals as patients recovered and moved on to other forms of care.
"We believe that relative to March and April, hospitals today are better prepared to remain operational through subsequent outbreaks of the coronavirus, due to expanded testing abilities, and significantly more personal protective equipment for their staffs, which large, geographically diverse hospital operators can easily redeploy across markets," says the report. "Hospitals also have much better procedures in place to deal with outbreaks, including for managing ventilators, adding surge capacity and coordinating with local alternative settings, such as long-term care hospitals."
Even with improvement, the hole that hospitals are digging themselves out of is quite deep. 
Harris County Health System has lost $24 million in revenue since the pandemic came to Houston. Houston Methodist said it has lost nearly 45 percent of its revenue, and the number of surgeries at CHI St. Luke's is down 65 percent.
Recovery from this financial blow is not only important for the continued care of patients in the middle of the pandemic, but also to the dangerously high unemployment rate in Texas. Health care is one of the largest industries in Houston, and tumbling revenues could lead to layoffs even as health care workers are needed the most. Sources from some Texas nonprofit hospitals told us that shifts have been cut for nurses and other staff in an effort to reduce cost, though the cuts have so far not been significant.