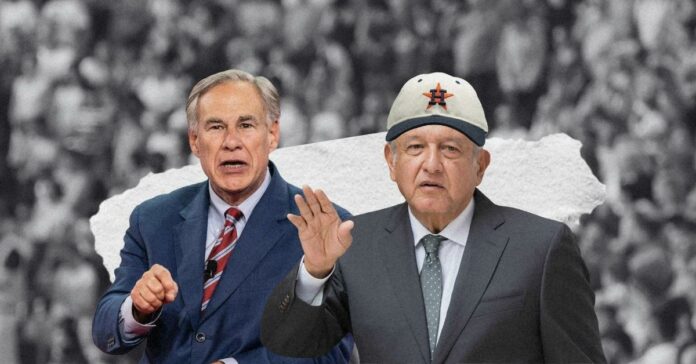 In a recent tweet, Mexican President Andrés Manuel López Obrador expressed some thoughts on the state of Texas, highlighting the role of Mexican-Americans in the local community and the Houston Astros' diverse baseball team. The tweet also indirectly addressed Governor Greg Abbott's stance on immigration.
López Obrador began his tweet by showing his support for the Houston Astros, expressing his hope for their success in repeating as World Series champions. He praised the diversity of the baseball team, particularly their Latinx representation. Among them is José Urquidy, a talented pitcher hailing from Mexico.
This diversity is a testament to the significant presence of Texan residents of Mexican origin. The most recent U.S. Census Bureau's updated population estimates confirm that as of July 2022, Latinos accounted for 40.2% of Texas' population, narrowly surpassing the 39.8% share held by non-Hispanic whites.

López Obrador then alluded to Gov. Abbott's controversial stance on immigration, pointing out that he rooted for the Astros despite their Governor being "racist and anti-immigrant." This is not the first time López Obrador has lashed out against Abbott over immigration. In May,  he called out Abbott for "exaggerated, dishonest" comments against migrants saying he would not allow Mexicans to be offended.

López Obrador accused Abbott of using migrant policies as part of a political ploy, and speaking "ill of migrants of Mexico" just in an attempt to garner votes for the upcoming elections.

"The Governor of Texas stating that he is going to declare an invasion, by Mexican migrants, is an exaggeration, it is very dishonest, it is disproportionate," said López Obrador, during his daily press briefing.

Abbott has made immigration enforcement a top priority and has spent a lot of time and resources combatting what he calls an "invasion" of the Texas border, through Operation Lone Star, a multi-billion-dollar border security initiative involving DPS troopers and Texas National Guard members, ongoing for over two years.
A mission that has spent roughly $10 billion, has done little to deter illegal immigration and has led to an increased number of desertions and suicides, as well as several officers being accused of entrapment and improper behavior.

In the past, López Obrador has stated that in order to establish an orderly migratory flow there needs to be a "brotherhood that puts the general interest of the people first, and not those that are partisan and group interest or political and economic interests."
"I understand that they want the votes, but we are not going to allow Mexicans who have gone to the United States to work honestly to be offended," the Mexican president said.