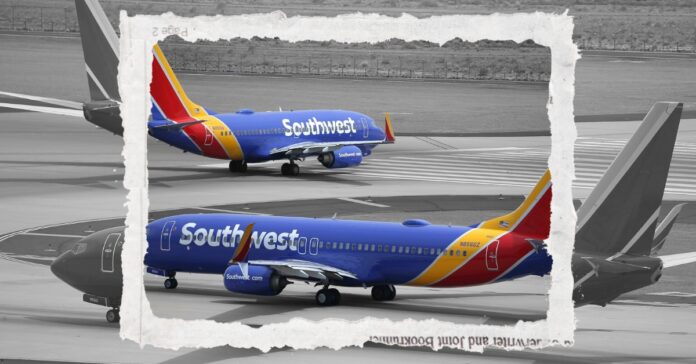 In the fallout of the holiday meltdown of The Dallas-based airline, the federal government plans to investigate the carrier, as legislators, travelers, and staff are demanding accountability for the thousands of flight cancellations that occurred in part due to a once-in-a-lifetime storm over the Christmas weekend.
Many travelers said they felt Southwest had done little or nothing to get them to their destinations, as they are still stranded days after flight cancellations, missing luggage, and missed connections suffered through another wave of bumped flights.
Thus far the airline has canceled more than 14,500 flights since Friday, stranding customers who wait for hours to speak to staff in person, as the company's phone system appears to be largely unmanned, as the overworked staff tries to help frustrated travelers across the nation.
And more than 2,900 flights on Monday, another 2,500 each day for the next two days, amounting to more than 60 percent of its scheduled flights.
Transportation Secretary Pete Buttigieg said his agency would examine the causes of Southwest's widespread cancellations, and seek to determine whether the airline was meeting its legal obligations to stranded customers, as dictated by the Federal Aviation Administration.
"Because what we're seeing right now, from the system and the flights themselves to the inability to reach anybody on a customer service phone line, it is just completely unacceptable," Buttigieg told CBS early Wednesday.
While its customers, staff, and pilots sleep in airports for lack of hotel accommodations, more desperate travelers sought other means of travel using different airlines, rental cars, and trains.
Some have no choice but to shelter in place until the carrier's flights resume in their point-by-point system, which picks up crew members along the way. This is in contrast to other airlines operating procedures that rely on large metropolitan hubs to refresh crews in emergencies.
"We are past the point where they could say this is a weather-driven issue," Buttigieg said in an interview with ABC News. "Don't get me wrong, all of this began with that severe storm. We saw winter weather affecting the country and severely disrupting all airlines."
On Tuesday, Sen. Maria Cantwell, D-Wash., chair of the Senate Committee on Commerce, Science, and Transportation, released a statement saying the committee would look into "the causes of these disruptions and its impact to customers."
Cantwell has called on Southwest to provide "significant" compensation for stranded travelers because it has already announced plans to pay $428 million in dividends next month.
Industry experts have noted that this is not the airline's first time to have massive service disruptions, however, it is one of the largest in the nation's history. "This is the worst round of cancellations for any single airline I can recall in a career of more than 20 years as an industry analyst," said Henry Harteveldt, who covers the airline industry for Atmosphere Research Group.
According to the FlightAware tracking service, more than 91% of all canceled flights in the U.S. belonged to Southwest this week, and the very nature of their operation is likely to be scrutinized as they try to recover from the bomb cyclone event that crippled its fleet.
Southwest posted a video late Tuesday featuring CEO Robert Jordan in which he said the airline would operate a reduced schedule for several days but hoped to be "back on track before next week."
Jordan said Southwest's tools for recovering from disruptions work "99% of the time, but clearly, we need to double down" on upgrading systems or risk repeating the failure of this week.
"We anticipate additional changes with an already reduced level of flights as we approach the coming New Year holiday travel period," the statement read. "We'll work to make things right for those we've let down."
For Texas travelers, that will not come as much consolation after spending much of the holiday stranded in Austin, Dallas, or Houston area airports, where they waited for hours or days for flights that were ultimately scratched. On Christmas Day the airline delayed or canceled more than 100 flights at the San Antonio International Airport.
And many found that their luggage was either lost or had already been sent ahead without them. Many travelers have been separated from their medication for the duration of their trip to this point because of the airline's failure to maintain baggage location integrity during the crisis.
Captain Casey Murray, president of the Southwest Airlines Pilots Association, said that these types of issues aren't new, but they have been going on since the pandemic started.
"We've been having these issues for the past 20 months," he told CNN. "We've seen these sorts of meltdowns occur on a much more regular basis and it really just has to do with outdated processes and outdated IT."
Murray also said that the airline's operations and computer systems have not been meaningfully upgraded in roughly 20 years, and blamed the cancellations on "management's poor planning."