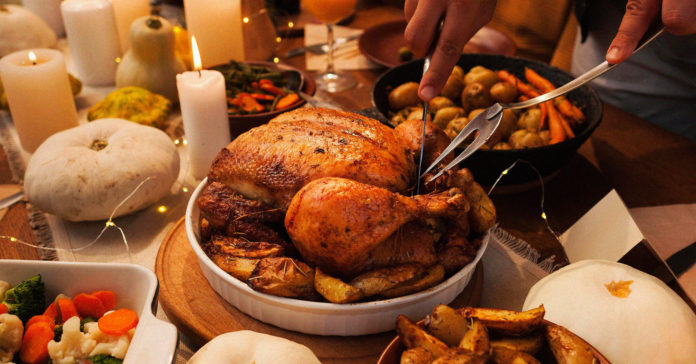 Some of Texas' top experts and innovators share how they are spending Thanksgiving by adapting traditions and finding new ways to celebrate.
Douglas W. Curran, M.D., past president of the Texas Medical Association and family physician based in Athens, TX
Our family as always will meet outside for a Turkey Trot. We will be wearing masks and appropriate social distancing. This year, it is not about finishing in first place, but rather about being outside and safe.
Our family plans include a dinner and a hayride in the pasture near our home. All activities are outside as the weather in our area allows outdoor functions. Most important, we are well and aware of what it takes to stay safe. We plan to model the safe behavior of masking, social distancing, and keeping clean hands. By following scientific proven safeguards, it will allow us to return to normal activities and reflect on this year as a special time of challenge. Of which, we will meet head on and conquer.
LeChauncy Woodard, M.D., M.P.H., director of the Humana Integrated Health System Sciences Institute at the University of Houston and a UH College of Medicine professor.
Like many this holiday season, our family will forgo our traditional large gathering and instead spend Thanksgiving with our smaller family units comprised of only our individual households. While we will miss celebrating together, my husband, children and I plan on preparing Thanksgiving dinner at home, packing it up, and taking an RV trip to the beach. We will connect with our larger family via zoom, while embracing the opportunity that this year provides to find joy in simpler things.
Ruth L. Bush, M.D., J.D., M.P.H., associate dean of medical education and a professor at the University of Houston College of Medicine
We are thankful for our health and understand that this year will be a quiet and intimate Thanksgiving, calling family members and bragging about who made the best dish! It is critical that we all stay vigilant, not be overcome by COVID fatigue and the desire to see others and family members. We will get to do so soon and just need to be patient a little while longer.
Brian C. Reed, M.D., practicing family physician and chair of the clinical sciences department at the University of Houston College of Medicine
Our family has decided to forego the traditional family gathering this year. My parents will be preparing a turkey and allowing individual representatives of our local family households to stop by and pick up some turkey to take back to their household. All of the individual local family households will be responsible for making their own side dishes and desserts to go along with the turkey. Lastly, we plan to have some prayer and fellowship via Zoom. We are very concerned about our health and wellbeing and want to avoid making anybody sick.
Mark P. Jones, Ph.D., professor of political science at Rice University
We will have a smaller than normal gathering with my wife, two daughters and father-in-law, but look forward to being together and giving thanks for all we have been provided. That, and enjoying the pumpkin pie, which is synonymous with Thanksgiving for us. And, with my father-in-law from Detroit and I having lived in Michigan for 15 years, watching the Lions is a tradition for us, with the added bonuses this year that they will be playing the Texans, and the Lions' rookie punter is former Rice Owl Jack Fox.
Chris Shepherd, chef and owner of Underbelly Hospitality
This is the first time I've cooked Thanksgiving dinner at my new house that my fiancé and I spent three years renovating. So, for me, this is the year that traditions begin. I'm making a lot of food, but I'm most excited about my mom's oyster dressing. I've been eating this dish since I was a kid.
Mindy Perry, chief marketing officer at Kendra Scott
We're keeping it small – close friends who have been part of our social bubble for the past six months. We are all contributing to the dinner and connecting with our families via Zoom.
A tradition I adopted throughout my career is to send hand-written thank you notes to people that have made an impact on my life and helped me get to where I am today. Parents, relatives, friends, teachers, professors, colleagues, bosses, etc. are all in the mix.
It's a practice I encourage my teams to participate in and while this time of year is crazy busy for retail, it's an amazing way to take a moment of reflection and share our immense gratitude with those that have helped shape us and our journey.
Angela G. Clendenin, Ph.D., instructional assistant professor of epidemiology and biostatistics at Texas A&M University.
We won't be traveling to see family this year, but my husband and two children will do what we enjoy doing this Thanksgiving. We will watch football, cook some special family recipes we typically enjoy at this time of year, and take some time to just enjoy being with each other. Turkey, cornbread dressing, mashed potatoes, cranberry sauce, and homemade yeast rolls are all family favorites we have enjoyed for decades, and this year will be no different in that aspect.
We still think it is important to connect to those family members who we would have been visiting if we were not in the middle of a pandemic, so we are going to be creative and either FaceTime, Zoom, or even simply call them to let them know we are thinking of them and are thankful we can still keep in touch. I think even these simple things, built on tradition (although executed a little differently) provide a sense of normalcy for us and help us focus on what is truly important in our lives.
.