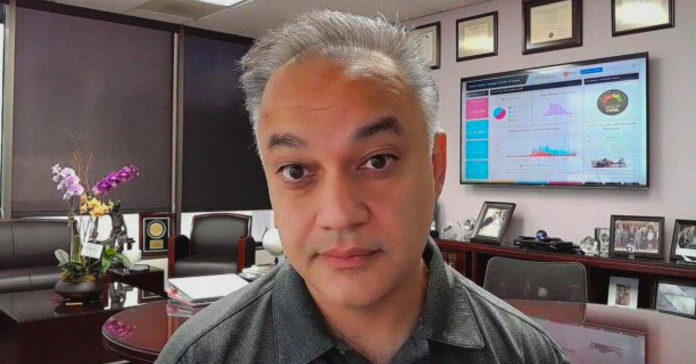 After seven years Dr. Umair Shah, Harris County's top health official, is bound for the Pacific Northwest to be the next Secretary of Health for the State of Washington.
Dr. Shah is an Ohio native and started his distinguished career as a physician in Houston. He first joined Harris County Public Health (HCPH) in 2004, as Deputy Director and the Director for Disease Control and Clinical Prevention. 
Since 2013, Dr. Shah has been the executive director of Harris County Public Health, and under his leadership, HCPH became a nationally accredited health department. His leadership and innovation will be remembered for helping Houstonians navigate several major public health threats, including the development of a fleet of mobile units which assisted many disaster-stricken neighborhoods during Hurricane Harvey, and facilitating the funding and development of a state-of-the-art testing laboratory at the Mosquito and Vector Control Division (MVCD). 
During his tenure, Microsoft chose MCVD as its launch partner for its Premonition Project, which is developing innovations for global health.
While Dr. Shah's voice may be most recognized for helping Houstonians post-Harvey, in January, he foreshadowed the coronavirus hitting Houston and had warned the community about people feeling ill while attending the 2020 Houston Livestock Show and Rodeo, it was a signal of what was to come. 
While working aside Harris County Judge Lina Hidalgo on the county's stay-home orders and then a roadmap to reopening, his advocating and medical expertise provided county guidance on the severity of the COVID-19 pandemic.
In June, following the protests in Houston over the death of George Floyd, Dr. Shah explained to RA News COVID-19 health and safety suggestions for protestors, you can read his advice here.
When it comes to what he will be remembered for in the Houston area, Harris County Public Health spokeswoman Elizabeth Perez said in a statement on Tuesday,
"Dr. Shah stapled HCPH's core values of Innovation, Engagement, and Equity and it was ingrained into how we approached public health as an entity."
Perez reflected on his impressive career. "Dr. Shah coined the term #invisibilitycrisis in 2017 at the National Association of City and County Health Official (NACCHO) conference bringing to light that public health is much needed but utterly underinvested in, echoing the sentiment felt by many health departments nationally which prompted him to be asked to testify before Congress."
When it comes to what makes him difficult to replace, Perez said it was his devotion to the health department and passion for building a healthy Harris county community that Dr. Shah is known for.
"He is a motivated person who advocates 24/7 for the wellbeing of the public (yes, 24/7 sending emails at 3-4 in the morning). His leadership skills, and always positive attitude will be greatly missed by all his staff members. Dr. Shah's inclusiveness and team-driven attitude, as he likes to say, 'it's never me it's the we' created a sense of pride within his team," she added.
"He is a champion for investing in public health and preventive measures in communities before, during, and after these crises," said Harris County Judge Lina Hidalgo, after Dr. Shah announced his departure.
"I'm leaving an incredibly strong leadership team behind," Dr. Shah said during an interview on Houston Public Media about his time in Houston and advising the public how to move forward throughout the pandemic.
He praised the work ethic of the Houston health department as strong, experienced, diverse, dedicated, and passionate.
"Now is the time to appreciate the value in public health and prevention," Dr. Shah added before the interview closed, "let's invest upfront, and if we do that in county and city and even state and federal governments, we invest truly in health, then we can have a healthier community."
Dr. Shah will leave his position in Harris County on December 18.
This week Dr. David Persse, chief medical officer for the City of Houston provided a statement on working aside Dr. Shah,
"Residents of Harris County are healthier thanks to Dr. Shah's passion, dedication, and achievements. I've had the pleasure of working side-by-side with Dr. Shah during routine public health initiatives and now a once-in-a-lifetime global pandemic. No matter the scale of a challenge.
"Dr. Shah always provides strategic and calm leadership, guiding Harris County Public Health's response. Our loss locally is the State of Washington's gain," Dr. Persse added.