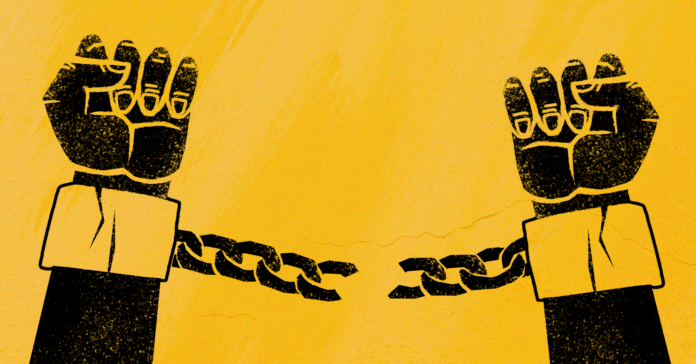 As Texans across the state continue to remember George Floyd, Ahmaud Arbery, Breonna Taylor and others whose deaths have sparked national conversations about race and racial reconciliation in the United States, today, June 19, has taken on extra significance as a special holiday to reflect and remember.
Today is Juneteenth — the historic day commemorating the day word of the Emancipation Proclamation finally made its way to Texas.
As Texans dig into the learning and listening work of education on American and racial history and how they are intertwined, especially now, this will be a day that is remembered differently from now on for years to come.
"Juneteenth is a reminder that our freedom was fought for and not just handed over to us. It's the blueprint for the hundreds of movements that followed to further guarantee that freedom was achieved," journalist Brianna Holt wrote in a New York Times column. "And in 2020, during a national outcry for justice, awareness of Juneteenth seems at an all-time high. … The day also feels more timely and relevant than ever, a reminder that freedom is still long overdue." 
Texas Sen. John Cornyn, a Republican, and Congresswoman Sheila Jackson Lee, a Democrat from the Houston area, have submitted proposals to make Juneteenth a national holiday.
Texas major league sports teams, including the Cowboys, Mavericks, Rockets and others are observing today as a holiday. In addition, many companies — including Vox Media, Twitter, and Square have designated this day as a permanent company holiday.
"As it takes on a more national, symbolic and even global perspective, the events of 1865 in Texas are not forgotten, for all of the roots tie back to this fertile soil from which a national day of pride is growing," Juneteenth historians write on the day's official history site. "The future of Juneteenth looks bright as the number of cities and states creating Juneteenth committees continues to increase. Respect and appreciation for all of our differences grow out of exposure and working together. Getting involved and supporting Juneteenth celebrations creates new bonds of friendship and understanding among us. This indeed brightens our future — and that is the Spirit of Juneteenth." 
An important distinction about Juneteenth is that it is not the day when enslaved people were freed by the Emancipation Proclamation enacted by President Abraham Lincoln in January 1863, or the day slavery ended. Instead, it is the day when enslaved Texans found out they were free and had, in fact, been free for two years. It took until 1865 for the news to reach them, when Major General Gordon Granger landed at Galveston, Texas
Juneteenth's official history site notes that "The Emancipation Proclamation had little impact on the Texans due to the minimal number of Union troops to enforce the new executive order. However, with the surrender of General Lee in April of 1865, and the arrival of General Granger's regiment, the forces were finally strong enough to influence and overcome the resistance." 
In other parts of Texas and the United States, many enslavers continued to hold their slaves captive after the Emancipation Proclamation, so June 19 became known as Juneteenth, a symbolic date representing the true freedom of African Americans.
Although the Civil Rights movement in the 1950s and 1960s brought both positive and negative results for Juneteenth as the struggle for equality continued during those decades, Texas especially has been a trailblazer in establishing this day as an officially recognized holiday. On January 1, 1980, Juneteenth became an official state holiday through the efforts of Congressman Al Edwards (D-Houston), an African American who at the time was serving in the state legislature.
Juneteenth has since become a day that emphasizes and champions education and achievement, often marked by celebrations, guest speakers, picnics, and family gatherings with food that evokes remembrance of traditions and legacies established by ancestors celebrating this day for many years back.
Black families also use Juneteenth as a day to remember their history, and utilize this day as a time for self-reflection, assessment, self-improvement, and planning for the future of their families.
As many other Texans — of every ethnicity, but especially white Texans in 2020 — learn about this historic day, they too can join in on this important self-work.
Writer Monica Piriani said the growing popularity of this day in this age "signifies a level of maturity and dignity in Americans." 

"In cities across the country, people of all races, nationalities, and religions are joining hands to truthfully acknowledge a period in our history that shaped and continues to influence our society today," Piriani wrote on instagram. "Sensitized to the conditions and experiences of others, only then can we make significant and lasting improvements in our society."