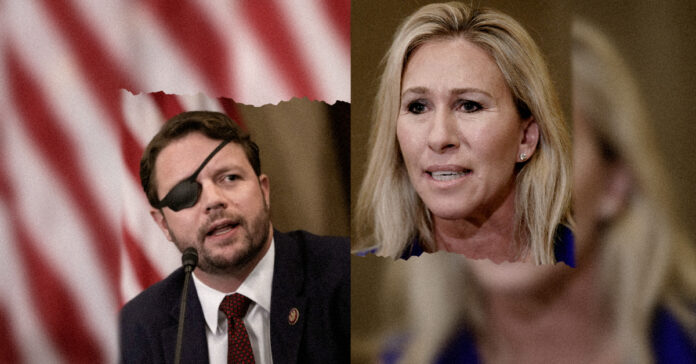 Rep. Dan Crenshaw and Congresswoman Marjorie Taylor Greene's feud over COVID-19 testing escalated faster than the Omicron variant itself. After Crenshaw suggested the federal government should utilize FEMA to expand testing nationwide, Greene attacked him on Twitter for such an absurd idea.
After spreading COVID-19 misinformation, Greene's personal Twitter account was permanently suspended – but not before she could get her social media digs in.

"No FEMA should not set up testing sites to check for Omicron sneezes, coughs, and runny noses and we don't need FEMA in hospitals, they should hire back all the unvaccinated HCW [health care workers] they fired," Greene wrote. "He needs to stop calling himself conservative, he's hurting our brand."

In the past Crenshaw has not been shy about his opinion toward the ultraconservative Freedom Caucus – which includes Greene in it's members – calling them "performance artists" and "grifters" within the Republican party. 

So naturally, fighting fire with fire, Crenshaw dissed the congresswoman in an Instagram story. 

"Hey Marjorie, if suggesting we should follow Trump policy instead of Biden mandates makes you mad, then you might be a Democrat – or just an idiot," he wrote. 
Greene had to move to the newly created conservative social media platform called Gettr to continue the heated feud. She referred to Crenshaw as someone "who spends more time attacking America First Republicans because he (not so secretly) hates Trump," as reported by The Houston Chronicle. 

The congresswoman also criticized Crenshaw for his inability to "show up and vote…" Stating that, "Dan doesn't always walk in the chamber to vote to stop Dem bills, even when he's in town." 

Shortly after, Crenshaw called Greene out for "playing the victim" and suggested she should join him in supporting a bill to prevent political censorship unless the congresswoman preferred to "keep up the petty childish attacks."

"Your call," Crenshaw wrote.