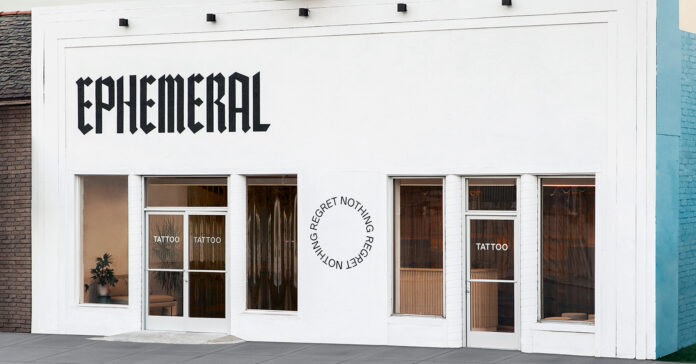 TV and movies occasionally show hilarious scenes where characters have too much fun during a night out, then wake up the following morning with a permanent reminder of their good time, an embarrassing tattoo.
Ephemeral Tattoo offers a disappearing tattoo that lasts about a year, rather than for life. They just opened a new shop in Houston, the company's fifth location in the U.S., following Brooklyn, Los Angeles, San Francisco, and Atlanta.
It's all part of the latest trend in ink, according to YPulse, the Gen Z and Millennial consumer site. While trendy services like Ephemeral often remain on the East or West coast or locate in Austin if they come down south, the company says that it chose Houston because of the city's diversity.
"We didn't want to be stuck in our coastal echo chambers. Meanwhile, I think Austin has lost a little bit of the soul that Houston…still possesses," CEO Jeff Liu told Axios.
This new-concept service seeks to offer customers the opportunity to have a fun tattoo that won't follow them into their professional lives, possibly preventing them from accessing future opportunities.
Salary.com conducted a survey in which a surprising 76% of respondents felt tattoos and piercings hurt them in their job search, or when seeking promotion.
Since Ephemeral tattoos fade in nine to 15 months, millennials and Gen Zers are taking advantage and having fun with wacky or goofy tattoos, he added, and customers are getting them in all areas of their bodies without fear of needing laser removal. The company's clientele is more than 70% first-time tattoo enthusiasts, and a majority are women and people of color.
A photo on their website shows their logo painted on a studio wall with their slogan "Regret Nothing. Made to Fade," which succinctly sums up their attitude and that of their clients.
The inks that Ephemeral uses are made of bioabsorbable polymers, which break down naturally over time. Liu added that since their tattoos are temporary, it "allows you to show the world who you are, even if that person…might change over time."
But Liu notes that just because the tattoos are temporary doesn't mean they're less painful, or less expensive. They start at $195 for simple ones, and $350 and up for complex ones.
The Houston shop is located at 1665 Westheimer in the Montrose area, well known for its walkable access to restaurants, bars, and various types of shops, and is across the street from — you guessed it — a traditional tattoo parlor.