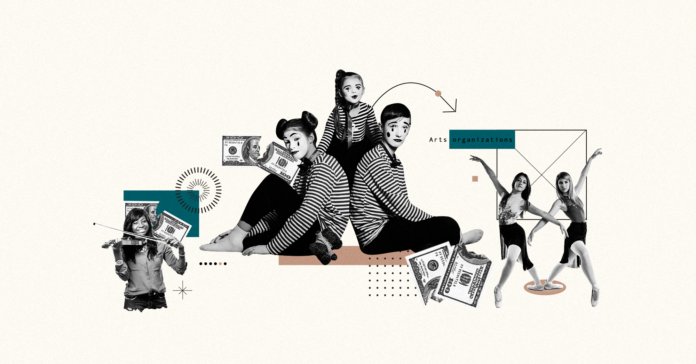 Empty rows of theater seats, darkened auditoriums, and canceled summer show tickets: these are all tangible reminders for the Texas arts and culture community of the reality of the pandemic's impact on their livelihoods — and their futures.
As the state continues to navigate what's next with the economic impacts of the virus, the arts community has been hard hit.
The Houston Opera announced a layoff of 27 percent of its staff and a budget cut of $10 million. The opera plans not to resume performances until 2021.
In Dallas, the arts and cultural community has suffered a loss of more than $33 million in revenue and 649 jobs across a diverse range of specialties.
A survey published in June conducted by Dallas arts advocacy organizations The Arts Community Alliance, Dallas Arts District and Dallas Area Cultural Advocacy Coalition showed the impact on jobs and revenue and estimated that more losses may be ahead. The cultural ecosystem of Dallas is at risk. 
This research is particularly important as artists and arts advocacy groups wonder what's next for their performance seasons because it puts real data into the hands of Texas lawmakers and city leaders who play a significant role in funding initiatives that keeps this community alive.
"When the pandemic hit, and arts and performing arts venues had to close, we started working with the city to figure out funding options, and I realized there was no one tracking the impact on the arts," said Chris Heinbaugh, vice president for external affairs at the AT&T Performing Arts Center in Dallas.
Heinbaugh, through TACA, was part of collecting the survey.
"We are all small businesses. If we had any chance of fighting and hanging on to funding after PPP loans expired, we had to make a case for the impact. There were lots of national studies going on, but it really didn't capture what was happening here and in Texas. We plan to do another survey and this existing data will help us benchmark it and give us a real tool to make a case instead of just anecdotal information. We knew we were going to take a hit like everyone else — but it's the arts that gets hit first."
Heinbaugh emphasized that although the arts are in the entertainment industry, they bring a huge amount of value and support to other industries in the city — including hotels, restaurants, bars, educational programs, tourism, and city-supported community initiatives like outdoor theaters or parks. Many performing arts buildings in Dallas are actually owned by the city.
"Zeroing out the arts in the face of a pandemic is just not an option," Heinbaugh said.
And these organizations are built on and powered by people — artists and performers who rely on performances for not just their income, but their creative engagement and collaboration. Carlson President & Executive Director at TACA Terry Loftis said the revenue loss for the industry is huge, but just as much, there is an emotional toll as well.
"What you see when you go to a performance is the artists, the musicians, the performers. But there is so much more than that — jobs from the CEO all the way to the ticket-takers and ushers. The cultural arts from an emotional perspective is relevant especially in times like this. We have to be there," Loftis said.
Shuttering theaters and other performance venues was the only safe option for the arts community facing a pandemic, especially as a large section of a performing arts center's season ticket holders may be in an older or vulnerable demographic. But at the same time, part of the appeal for big cities like Houston, Dallas, or Austin — because tourism isn't solely tied to beaches or mountains — rests largely on the arts community, Loftis said. It's a devastating choice.
"We have to think about not just revenue but the impact on patrons and performers," Loftis said. "Visual art is a bit different because you're still able to paint, for example. But performing arts — it's more difficult. Even if organizations were able to come back in a limited capacity, you have to protect patrons and performers. Can you put on an opera with a limited cast and the cast members singing while wearing a mask? Probably not. So there's a dual issue of a lack of creating art and the loss of revenue for the organization. For so many performers, your livelihood is based on your artistic ability, and you rely on collaboration from other artists. It depends on being able to meet in person."
It's a similar story across the state.
Houston's arts and culture scene is suffering too, with layoffs and budgets cuts at the Houston Grand Opera, the Houston Symphony reporting a deficit of $11 million in revenue, a shortened season at the Alley Theater, and the cancellation of the broadway megahit "Hamilton," which was set to come to Houston this summer. 
A study by the Texas Cultural Trust found that 11% of Austin's 2017 workforce was employed in the creative sector — higher than any other city in the state. Arts and culture generated more than $569 million in taxable sales in 2017. The city known for cultural and artistic performance greats like South by Southwest, Austin City Limits Live, and more is expecting a $1.5 million shortfall in arts funding for the current budget year, leaving only $7 million for the 2021 budget. 
But it's not all bad news for Texas art supporters. Arts organizations have pivoted like many other industries to find creative ways to keep the arts alive.
The Latino Cultural Center in Dallas created a drive-in theater experience that will now begin touring, bringing the arts to different neighborhoods and areas that are underserved with the arts. "Everything Will Be Fine," a play that utilized the headlights from patrons' parked cars in a parking lot, was welcomed with sold-out ticket sales. Texas libraries and art museums have distributed at-home art kits and virtual educational programming, even as kids and families mourn the cancellations of camps and summer arts programs this year. 
What's next for the arts community is hard to predict, but many advocates are hoping desperately that the fall will bring answers. Decisions about the holiday season and the school year with field trips are quickly approaching — another block of months the performing arts industry relies on for huge revenue. Still, there is a glimmer of hope if the community can hang on a little longer.
"We've worked so hard in past years to improve and strengthen cultural equity and diversity, and we have some of the strongest leadership in two generations," said Jennifer Scripps, director of the Office of Cultural Affairs for the city of Dallas. "We don't want to lose momentum. But more than that, I am hoping we are going to see a flourishing of arts come out of 2020. There has been enough misery and upheaval this year, and the arts are a way for people to come together and experience beauty and culture. I'm waiting to see how that comes out in wonderful ways after this year."