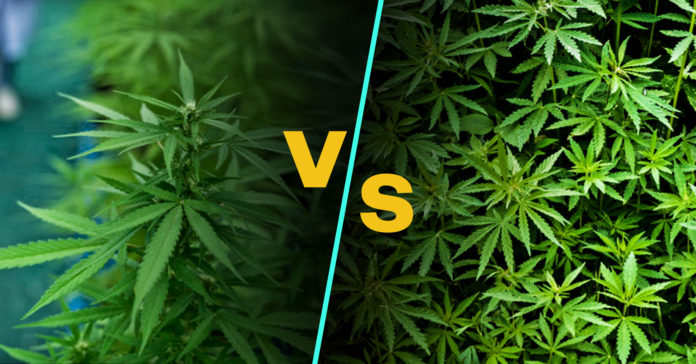 Is it marijuana or hemp? Do we prosecute or drop charges? Those are questions prosecutors around Texas have been wrestling with since the legislature legalized hemp in 2019. In Harris County, they now have answers. Well, sort of.
A new testing method being used by the Houston Forensic Science Center can measure whether delta-9 tetrahydrocannabinol, the controlled substance in the cannabis plant that causes a "high," is above or below 1 percent. This will allow the laboratory to differentiate illegal marijuana from legal hemp in specific circumstances. 
In 2019, the Texas Legislature legalized hemp by defining it as a cannabis product with 0.3 percent or less THC. Crime laboratories statewide did not have the capability to measure the amount of THC in any cannabis products, which made it difficult, and in some cases impossible, to prove whether a seized plant material was marijuana or hemp. Prosecutors wanted to see lab reports proving seized evidence is actually marijuana before deciding whether to prosecute. Since most public crime laboratories in Texas previously lacked the capability to do the testing, police were forced to spend thousands of dollars to send evidence to private laboratories.
"This new method will address the vast majority of the cases, though only for plant material, not products," said James Miller, manager of HFSC's seized drugs section.
Further research is underway at the crime lab to determine a method for testing THC concentrations in oils, waxes, edibles and other nonplant materials.
There are also additional limitations to the new method because it only measures THC concentrations at 1 percent or more although the law defines any item with a THC concentration of more than 0.3 percent as a controlled substance.
"We hope that with the implementation of this method we will be able to provide stakeholders with the scientific information they need to deal with at least some suspected marijuana products," said Dr. Peter Stout, HFSC's CEO and president. "This has been a successful collaborative effort with other crime laboratories in the state, and we hope that the consistency in our analyses will be beneficial."
With the legislature due to convene in January, there is a growing consensus that Texas should follow the lead of other states and legalize marijuana. While touring a facility licensed to grow marijuana for medicinal purposes, Texas Agriculture Commissioner Sid Miller said he doesn't support legalizing marijuana for recreational use but would favor expanding it for medicinal use.
"I would certainly expand medical marijuana," he said. "If it'll help somebody, I'm for it. Whatever it is. I mean, a toothache, I don't care. If it's a cure, if it [alleviates] pain, we should be able to use that."
Others in Austin want to go further. State Rep. Joe Moody (D-El Paso) spearheaded an unsuccessful decriminalization bill two years ago and he has signaled he is ready to try again.
Several Texas cities have instituted cite and release policies under which possession of small amounts of marijuana result in a ticket rather than criminal prosecution. In Harris County, low-level pot charges are not prosecuted. Offenders are instead referred to marijuana diversion programs.