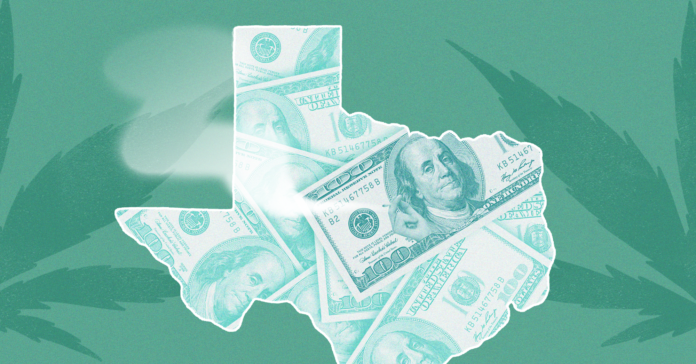 Texas has been slowly acclimating to the idea of legal marijuana access, but there is some indication that the current financial crisis may be propelling the issue.
State Rep. Dustin Burrows (R-Lubbock) mentioned the idea in a recent webinar on Facebook about possible alternate revenues for the state. (The relevant portion starts at 43:00.) Though he was quick to say he personally was against the idea of recreational marijuana because of sentiment in his district – a fact later confirmed in a follow-up call with his office – he is calling recreational marijuana "part of the conversation."
Burrows attributed the introduction of the idea to state Rep. Joe Moody (D-El Paso). Moody has been an outspoken proponent of marijuana reform in Texas. Last year, he spearheaded a decriminalization bill that overwhelmingly passed the Texas House only to be stopped dead in the Texas Senate. Since the death of the bill, though, marijuana reform has only gotten more popular in the state, and Moody is ready to try again and go even further.
"Texas has never taken up a marijuana retail market before," he said. "There has been broad discussion of medical use and decriminalization but given where we are financially and in the atmosphere of current justice reform, I think that it is worthwhile to put forward a piece of legislation to consider. The time is certainly ripe."
Texas is hurting financially. Due to the pandemic, state sales taxes and oil prices have plummeted and tens of thousands of Texans are unemployed. With the federal government slow to pass another stimulus bill, many businesses and residents are in dire straits. Municipalities are facing enormous budget shortfalls, and the state will follow suit.
Opening the state to the retail marijuana business could provide a new source of income for the cash-strapped state. Texas could look to Colorado, where recreational marijuana was legalized in 2014.
Truman Bradley is the executive director of Marijuana Industry Group, the oldest, largest, and most diverse cannabis industry group in Colorado. In the six years since his state legalized marijuana, he said, things have only gotten better for people looking for work.
"In Colorado, more people voted for cannabis than voted for any president in the state," Bradley said. "Put in a regulatory framework that fosters a good business relation with sensible regulation, it can do good things. We haven't seen a lot of issues. Teen use has not gone up. Crime has not gone up. What has changed is that the Colorado industry employs 40,000 people in local jobs. That's just the direct employment, not the ancillary like payment processing, infrastructure, etc."
Colorado uses a dual licensing system that broadly makes marijuana legal but allows counties and cities to decide whether they will allow medical or recreational use, or both, or neither. That sort of system could be workable for people like Burrows, who is adamant that his district does not want legalized weed.
At the same time, Bradley cautions that legalization is not a free-for-all, nor should it be. The industry in Colorado is tightly regulated with severe penalties for those breaking the law, which allows the state to maintain control over a substance about which many still have major disagreements.
"The penalties for breaking regulations are severe, so the industry follows the rules," he said. "The black market has all but disappeared. Who would buy on the black market, where it might have mold or pesticides, when you can just buy it? Not everybody is a fan of cannabis. It's important to create incentives to partner with communities that want them there."
Colorado's example offers many tips for Texans should they go down this path. Bradley said that the regulations for starting a marijuana business were so onerous in the beginning that it made it nearly impossible for people of color (who make up the majority of people arrested for drug crimes) to start one. New avenues of income such as delivery and hospitality services should be on the table, particularly in the middle of a pandemic where in-person buying is less safe.
As the state struggles with lack of revenue and unemployed residents, legalizing marijuana may be a tantalizing prospect.
"I'm not under an illusion that one policy piece will fix the broken budget next session, but we have to be willing to look forward for new revenue," Moody said. "[Recreational marijuana] is an arena we have left completely on the sideline. I think it's time for use to pull the conversation to the center."