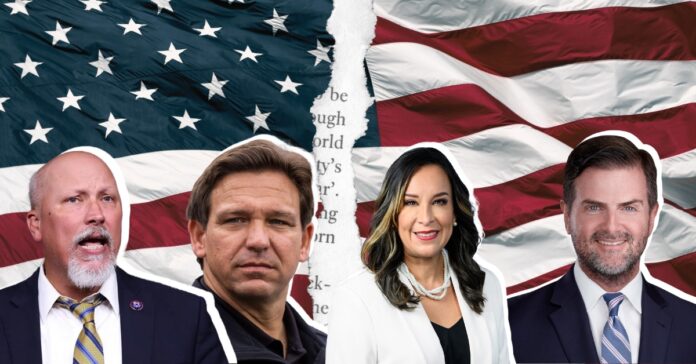 Florida Republican Gov. Ron DeSantis will be the headline speaker at a high-profile Harris County Republican fundraiser next weekend, causing some observers to question why he was chosen over Texas' own Gov. Greg Abbott.
Abbott, who is in his third term as governor — and also considered a GOP presidential contender — claims he is focused on the 2023 legislative session, which is already underway.
The annual Harris County GOP event, known as the Lincoln Reagan Dinner, will be held on Friday, March 3rd at the George R. Brown Convention Center in Houston with premium tables going for a whopping $50,000 for the two hour fundraiser.
"Alongside Texas, Florida is one of the nation's most prosperous and free states thanks to Governor Ron DeSantis' leadership," the chair of the Harris County GOP, Cindy Siegel, said in a statement and cited what she called DeSantis' "Freedom Blueprint" for Harris County.
DeSantis will also attend another fundraising dinner in Dallas County the next day. "Ron DeSantis is popular across the county, and he's a great speaker. We're excited about it," said Jennifer Stoddard-Hajdu, Dallas County Republican Party Chairwoman. "Clearly there may be some Trump supporters who don't like it, but most people are looking forward to it."
Abbott and DeSantis, both culture-warrior governors, while at times appearing to be bosom buddies, are reported to be developing a rivalry between their Austin and Tallahassee governors' mansions, and each man seems to have an eye on the other in possible 2024 bids of their own.
Both made recent splashes in MAGA politics by using asylum seekers as political pawns during the same week in the run-up to the midterm elections.
Abbott has gained national notoriety for busing migrants to so-called sanctuary cities in blue states and launching Operation Lone Star, to the tune of millions of dollars of state funds.
DeSantis apparently couldn't resist the opportunity to glom on to the border crisis headlines by sending men and equipment to help Abbott's border efforts.
But Abbott is not the only Texan who is a possible hopeful in the 2024 presidential sweepstakes, as U.S. Sen. Ted Cruz is also considered a contender, despite his claims that he plans to run for reelection to the Senate.
Texas Republicans support Florida Gov. Ron DeSantis as the Republican nominee over Trump by more than 10 percentage points, according to a November 2022 poll commissioned by the Republican Party of Texas, according to the Texas Tribune.
However, a December survey of likely Texas primary voters from conservative pollster CWS Research found DeSantis trailing Trump by only a single percentage point in a hypothetical primary contest.
U.S. House Rep. Monica De La Cruz, who represents the 15th Texas Congressional District, and Rep. Chip Roy from the Texas 21st Congressional District, which includes South Austin, North San Antonio, and the Texas Hill Country will also speak at the Houston event, along with State Sen. Brandon Creighton, currently representing District 4, which encompasses parts of Harris, Montgomery, Chambers, Jefferson, and Galveston Counties.