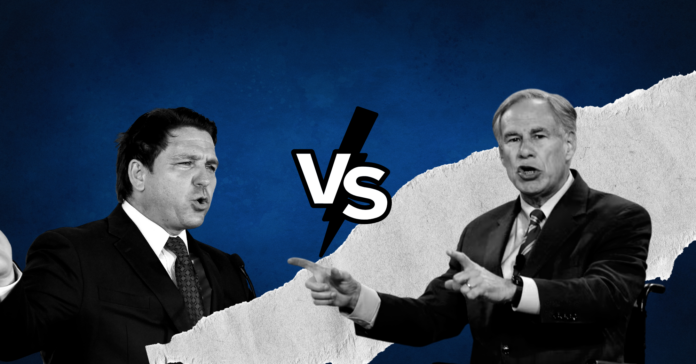 While the worst kept secret in American politics may be the re-election campaign announcement from former president Donald Trump, two culture-warrior governors seem to have one eye on their own gubernatorial re-election, the other on 2024 bids of their own.
Gov. Ron Desantis and Gov. Greg Abott, while at times appearing to be bosom buddies, are reported to be developing a rivalry between their Austin and Tallahassee governors' mansions.
Even though they both made recent splashes in MAGA politics by using asylum seekers as pawns, the effort, while occurring the same week, was not coordinated.
According to the New York Times, Abbott's staff was given no notice that DeSantis was sending chartered planes to San Antonio to scoop up migrants to fly them to Martha's Vineyard as Abbott was sending buses under the cover of darkness to the residence of VP Kamala Harris in D.C.
This one upmanship follows months of the two trying to score points with Republican voters in their own states by targeting the big ticket items on the MAGA shopping list, such as voting restrictions, abortion bans, anti-wokeness and other right-wing talking points.
Abbott has gained greater national notoriety for busing migrants to so-called sanctuary cities in blue states, and launching Operation Lone Star, to the tune of millions of dollars of state funds. But DeSantis apparently couldn't resist the opportunity to glom onto the border crisis headlines by sending men and equipment to help Abbott's border efforts.
While Abbott has not publicly admonished DeSantis for not giving notice of the San Antonio plane landing, privately he may have felt stabbed in the back. Despite that, Abbott's press secretary, Renae Eze, claims that the two have a good working relationship.
But in what can only be described as an example of raw ambition, DeSantis was quoted as saying that he did not have the "good political fortune" of a southern border with Mexico like Abbott does.
And according to a July poll by the Texas PAC, Defend Texas Liberty, DeSantis would be heavily favored over Abbott if Donald Trump inexplicably chooses not to run in 2024, despite the fact that he still seems to be trying to win the 2020 race he claims was stolen from him.
But as Trump's legal woes grow, conservatives have been debating whether DeSantis would be a better choice than Trump. Some in the Trump camp, such as Roger Stone, have openly warned him not to trust DeSantis, and he continues to outdo Trump with stunts like the migrant dumping in Massachusetts.