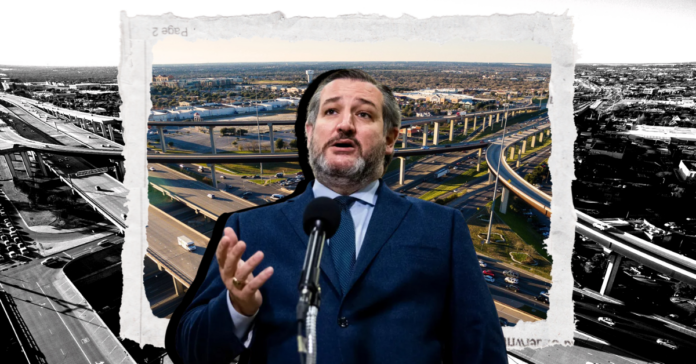 Senator Ted Cruz has recently been taking credit for a popular Texas highway project that he voted against.
"We did the hard work to bring together Democrats and Republicans, and we now have designated I-27, the Ports-to-Plains [highway], to run from Laredo, all the way north through Lubbock, all the way up to Canada," said Cruz in a recent interview with KAMC-TV in Lubbock. "That is going to bring jobs, $55 billion project, you're talking hundreds of thousands of jobs. You're talking tens of billions of dollars of additional GDP to the state of Texas. And it's a great bipartisan victory for the state of Texas."
That hard work did not include voting for the omnibus spending bill this year that will actually get the highway built. Instead, Cruz is hinging his integrity on the fact that he authored an amendment that designated the Ports-to-Plains project as a part of the national highway system. That amendment did have bipartisan support.
When it came time to cast a vote, Cruz and every other Texas Republican voted no in an act of universal opposition to the Biden Administration, even as the final bill contained necessary and popular projects that Republican lawmakers want and need for their constituents. This allows them the dual benefit of telling their far-right bases that they "stood up" to big government while also spending federal money on things that only big government can get done.
Cruz is the latest example of this phenomenon, but it's been a part of the Republican playbook for years because, frankly, people generally like it when their government does things that makes their lives easier.
In August, Houston received a major grant from the Department of Transportation that will provide $21 million and net the city high tech electric buses. The grant was a part of the Infrastructure Investment and Jobs Act back in 2021, a bipartisan law that spends more than $1 trillion over eight years on various American utilities. Representatives from Cruz and Sen. John Cornyn attended the ribbon-cutting despite both men voting against the bill.
Cornyn's attempt to embrace these projects as essential for the state is remarkably out of sync with his previous rhetoric. He called the Infrastructure Investment and Jobs Act "permanent welfare" and "job-killing tax hikes." The senator has also been claiming the credit for improvements to Port Arthur and Harlingen. Cornyn praised how much better the boons from one of Biden's signature legislative achievements would make the Texas cities while neglecting to mention that he refused to support it.
The discordant messaging from Cruz and Cornyn makes it very hard to know what the two men actually stand for. On the one hand, they have consistently stood in the way over every major piece of legislation proposed by Democrats since at least 2010. On the other, they never fail to pat themselves on the back for the good those pieces of legislation do Texas. Which, if either, represents the real ideology?