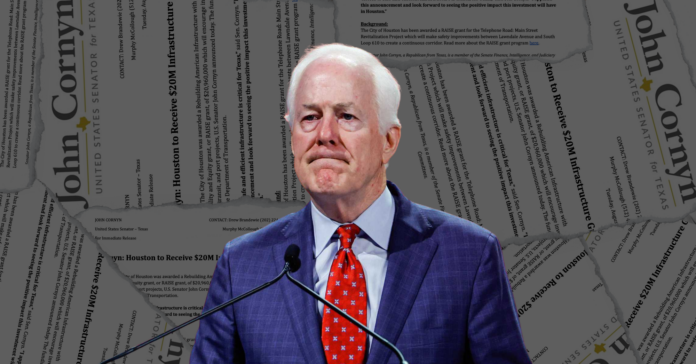 Texas Sen. John Cornyn on Tuesday took credit for three U.S. Department of Transportation grants awarded to Texas that he opposed. All three projects are part of the Rebuilding American Infrastructure with Sustainability and Equity, or RAISE grants.
The grants are part of the Infrastructure Investment and Jobs Act enacted by Congress and signed by President Joe Biden earlier this year. The bipartisan legislation passed with 69 votes in the Senate, including the support of Senate Minority Leader Mitch McConnell and 18 other Republicans.
"Access to safe and efficient infrastructure is critical for Texas," Cornyn said in a statement touting a City of Houston grant for a Telephone Road project. "I applaud this announcement and look forward to seeing the positive impact this investment will have in Houston."
Left out of the statement was the fact that Cornyn voted against the legislation, joined by fellow Texas Republican Sen. Ted Cruz. Cornyn called parts of the bill "permanent welfare" and "job-killing tax hikes." The aforementioned statement praising the grant is also curiously absent from Cornyn's website.
Sen. Cornyn is also not listed as one of the supporters of the project in the City of Houston's grant application. Reps. Sylvia Garcia and Al Green, who represent the Telephone Road project area, sent letters of support for the city's application, along with several other elected representatives and local advocacy groups.
The project runs 2.8 miles along Telephone Road, from Lawndale Drive to Loop 610. "This transformative, multimodal revitalization project will uplift communities based on data-driven solutions, actions, investments, and provide more equity to a key part of our city," Mayor Sylvester Turner said in a statement.
The project aims to transform Telephone Road, according to the application, into a boulevard where cars, pedestrians and bicycles all coexist. It is "a rehabilitation project with some reconstruction needs that utilizes existing right of way to incorporate rebuilt sidewalks, optimized bus stops with bike lane compatible treatments, optimized signalized intersections, improved street crossings, protected bidirectional bike lanes, and intersection/merge lane safety treatments. Local residents will enjoy greater access to locally serving retail, restaurants, schools, and greenspace."
"Houston has communities that have been left behind with a lack of transportation investment," Turner wrote in his grant application. "That lack of investment has stifled these communities' abilities to share in the Houston region's growing wealth."
Sen. Cornyn also took credit this week for similar RAISE grants awarded to Port Arthur and Harlingen.
The Port Arthur project will convert roughly 25 acres of an abandoned rail yard into a multimodal area including: site stabilization, lighting, fencing, fiber optic, stormwater management, relocation of utilities underground, and reconditioning of a structure to mitigate flood risks.
The Harlingen funds will be dedicated to a Commerce Street Corridor Redesign Project, which will encourage investment in road, rail, transit, and port projects.
All three press releases included nearly identical language:
"Access to safe and efficient infrastructure is critical for Texas," said Sen. Cornyn. "I applaud this announcement and look forward to seeing the positive impact this investment will have in Port Arthur."
"Access to safe and efficient infrastructure is critical for Texas," Cornyn said. "I applaud this announcement and look forward to seeing the positive impact this investment will have in Harlingen."