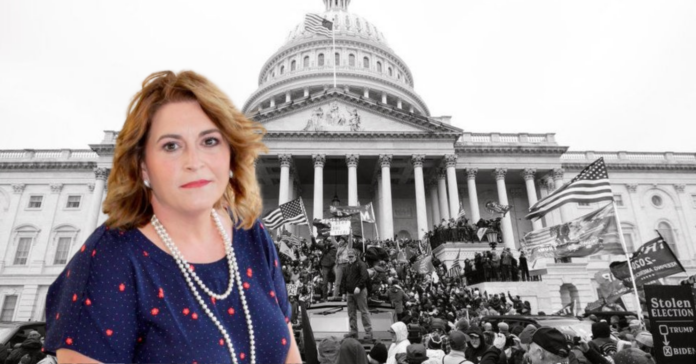 Former Republican candidate for the U.S. House, Kellye SoRelle, was arrested Thursday in Junction, Texas and charged with obstructing the certification of the 2020 election and tampering with evidence in the Justice Department's investigation of the Capitol attack. She will make an initial appearance before a federal judge in Austin Thursday afternoon, according to the Washington Post.
Ms. SoRelle, 43, is a lawyer for the Oath Keepers militia and was present at the U.S. Capitol along with the Oath Keepers leader, Stewart Rhodes. She was charged in a Federal District Court in Washington with conspiring to obstruct a joint session of Congress on Jan. 6, 2021 as lawmakers were attempting to certify the results of the 2020 election.
The indictment also accuses Ms. SoRelle of tampering with evidence connected to the Justice Department's grand jury investigation of Jan. 6 and illegally entering and remaining in a restricted area of the Capitol grounds.
Ms. SoRelle ran unsuccessfully for election to the Texas House of Representatives to represent District 60. She lost in the Republican primary on March 3, 2020 to Glenn Rogers.
A federal magistrate judge in Texas asserted in an order last January that Ms. SoRelle was in a romantic relationship with the group's leader, Mr. Rhodes, which she has denied.
There is no evidence that Ms. SoRelle entered the Capitol on Jan. 6. However, she participated in video conferences with Oath Keepers in the weeks before Jan. 6. and was with Mr. Rhodes outside the Capitol as other Oath Keepers invaded the building.
The indictment alleges that SoRelle "did knowingly combine, conspire, Confederate, and agree with other persons known and unknown to the Grand Jury, to corruptly obstruct, influence, and impede an official proceeding, that is, Congress's certification of the Electoral College vote."
She is also accused of aiding and abetting others to do the same and of persuading others to withhold or destroy records. Ms. SoRelle was not charged with seditious conspiracy, unlike Mr. Rhodes and several other members of the Oath Keepers.
The possibility of charges had not dissuaded SoRelle, who calls herself a "patriot" in her twitter profile, from posting on social media. Earlier this week, SoRelle tweeted QAnon-style conspiracy theories; "Dear government, those within multiple agencies are all trying to destroy you. Every side, you are surrounded by our enemies. We need you to fight for us, not against us."