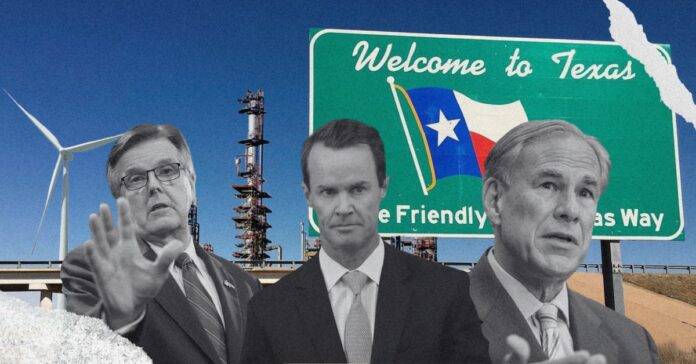 The Republican Party in Texas is facing a deep internal divide, mirroring the broader ideological fractures seen within the national Republican Party.

According to Mike Hixenbaugh from NBC News, this division has been escalating for years, with far-right factions gaining influence within the party, partially due to the financial backing of West Texas billionaires, Tim Dunn and Farris Wilks, who aim to push Texas further to the right.
Recent tensions flared when The Texas Tribune revealed that leaders of these far-right networks had met with Nick Fuentes, a white supremacist known for his extreme views. This revelation prompted Texas House Speaker Dade Phelan to call for the state GOP to sever ties with groups and individuals associated with white nationalist figures or rhetoric. Phelan sees this as a crucial moment and a warning for the GOP at the national level.

In an interview, Phelan said Republicans must remove "the rot" that he says has been festering for years within his own party. "This is an inflection point here in the state of Texas," Phelan said. "And as Texas goes, a better part of the country goes."

The influence of these far-right factions in Texas has already led to the passage of conservative laws, but they continue to pressure moderate Republicans, creating a highly polarized environment. The divisions became more pronounced after the acquittal of Attorney General Ken Paxton on impeachment charges, further deepening tensions.

According to NBC News, the Defend Texas Liberty network, funded by these billionaires, has vowed to unseat Republicans who supported Paxton's impeachment.

"You and your band of RINOs are now on notice," Jonathan Stickland, Defend Texas Liberty's former leader, tweeted at Phelan on Sept. 16, using the acronym for Republican In Name Only. "You will be held accountable for this entire sham. We will never stop."

After the Fuentes scandal, Lieutenant Governor Dan Patrick pledged to combat antisemitism and disassociate from extremists in the party. He also said he spoke to Dunn, who told him the meeting was "a serious blunder" and assured him that the PAC would have no "future contact" with Fuentes.

Phelan called for further action, including the resignation of the Texas GOP chairman, returning donations from extremist-linked groups, and dissolving the PAC and affiliated organizations.
"They finally got caught," Phelan said. "They finally got exposed for who they are, and I think a lot of Republicans across Texas are finally opening their eyes."

In response to the backlash, Defend Texas Liberty removed Stickland as their leader and replaced him with Luke Macias, who previously served as the group's director, as its president.