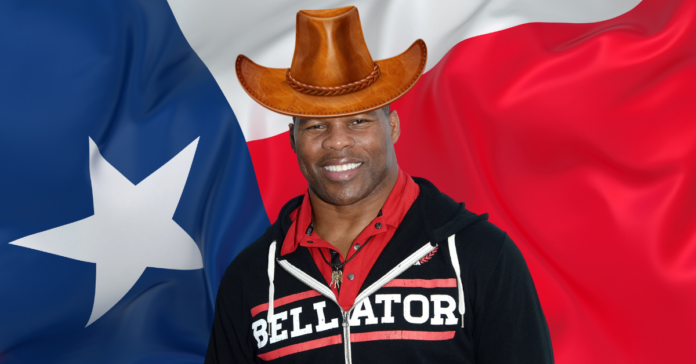 Herschel Walker — whose worst-kept secret may or not be that he lived in Texas for decades before he became a Republican senatorial candidate — appears to have been falsely claiming to be a Georgia resident for the last "17 years."
Yet, upon launching his campaign for the U.S. Senate in Georgia, Walker claimed to have deep roots in the state since his days as a legendary running back at the University of Georgia, leading the school to a national championship in 1980, before winning the Heisman Trophy in 1982.
However, Fulton County tax and property records show that the home Walker claims as his residence qualifying him to run in Georgia is owned by Walker's wife, Julie Blanchard, and is a rental property for the couple.
According to recent disclosures, Blanchard collected rental income from 2020 and 2021 — ranging from $15,000 to $50,000 — and was listed as a "Georgia residence" in tax records. Yet, the Atlanta area property served as Walker's first campaign address when he launched his bid in August 2021.
That complicates the dubious patchwork narrative that Walker, a Georgia native, has told about his relationship to the state he is now vying to represent in Washington, given that he has been a Texas resident since his NFL days as a Dallas Cowboy ended in the late 1990s.
Walker's 'life story' suddenly changed when former president Trump and the GOP tapped him to run for the Senate seat they lost due to their election meddling and denial in 2020 when Democratic Sen. Raphael Warnock defeated Republican candidate Kelly Loeffler.
Soon after, Walker began playing up his rural upbringing in the small central Georgia town of Wrightsville, and of course, stories of his glory days at UGA.
And not only is Walker's actual primary residence in Dallas, but Blanchard's company also received a previously unreported nearly $50 thousand in COVID relief loans during that same period — at that Texas address — according to federal data.
In a revised financial disclosure, Walker claimed that Blanchard's company had generated the rental income for his wife, suggesting the Atlanta property was part of company operations.
Presumably, the rental income earned between 2020 and 2021 proves that the Walkers had not been living in Georgia — before his campaign — as the property served as nothing more than a passive income stream.
Walker, nor his campaign, has publicly commented on the tax issue, according to a Daily Beast report.
But with only a week to go until the Dec. 6 runoff, questions about Walker's residency have become yet another campaign issue, when CNN revealed last week that Walker filed for a homestead exemption on his Dallas residence in both 2021 and 2022.
The exemption earned Walker a $1,500 tax break, but also required him to declare his suburban home as his "principal residence," and likely broke tax and campaign rules in Georgia and Texas.
In addition, Walker's campaign has been rife with controversy, including several women alleging domestic violence, and other women alleging that he paid for their abortions, even before the apparent tax law violations.
But Walker has other problems — his continuing inability to avoid 'foot-in-mouth' disease — committing multiple campaign speech gaffes, the latest of which featured his railing against electric vehicle technology this week.
The problem with his position is that EVs are a burgeoning industry in Georgia, with Ford and Hyundai building large plants to manufacture batteries and the area in the northeastern part of the state has been referred to as the "Battery Belt."
The plants are projected to create over 10,000 jobs for Georgians.
That follows an April report by CNN on how Walker asserted at least twice that he was his high school's valedictorian and graduated "in the top 1 percent" at the University of Georgia.
Yet, there is no evidence that Walker was valedictorian, and he never graduated from UGA.
Soon after the reports, his campaign removed those references from his campaign website.
Despite all of his issues — legal, ethical, and otherwise — Walker is tied with Warnock in some polls in the runoff. And while Democrats control the Senate, a Walker win would likely mute any substantial efforts by the Biden administration in the next two years to continue his agenda.