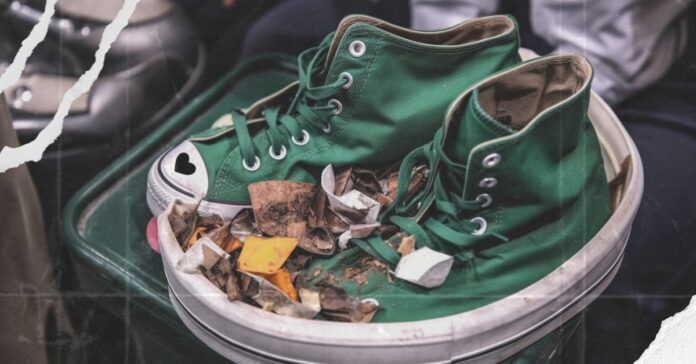 In a shocking incident at the U.S. Capitol on Tuesday, U.S. Representative Lauren Boebert from Colorado drew widespread criticism after she was caught on video discarding a pin that symbolized the tragic loss of young Maite Rodriguez's life in a school shooting.
The pin featured the lime green Converses worn by Maite when she was fatally shot in Uvalde elementary school last year.

Gun violence prevention advocates approached Boebert in a hallway, where they offered a brief speech about Maite's shoes' significance and implored her to support gun violence prevention measures.
However, Boebert, known for her staunch conservative views and opposition to gun restrictions, promptly discarded the pin in the trash. The pin was attached to a small handout explaining Maite's story and advocating for an assault weapons ban. The handout also included a photo of Maite's mother holding her daughter's shoes, according to San Antonio Express-News.
The video capturing Boebert's action quickly circulated online, leading Uvalde families and gun control advocates to denounce her behavior as "disrespectful" and "heartless."

Jazmin Cazares, whose 9-year-old sister Jackie was among the victims of the Robb Elementary School massacre, took to Twitter, describing the incident as "beyond disgusting," irrespective of one's stance on the issue.
Expressing her emotions through Twitter, Maite's mother, Ana Rodriguez, referred to the incident as a display of "evil humankind" and emphasized the urgent need to ban assault rifles.

Ana Rodriguez attached a letter she had written to lawmakers, which the activists also distributed on Tuesday.
"Losing my daughter has caused so much destruction and devastation in my life, and the worst part is knowing that this could have been prevented," wrote Rodriguez. "Evil humans and assault rifles are a recipe for murder, as we have seen time and time again. One of them must be taken out of the equation. Humankind will always remain, but you must ban assault rifles."

Maite was a 10-year-old with an "old soul," who enjoyed activities such as visiting the beach and watching scary movies. She had a deep love for animals, the color green, and aspired to become a marine biologist.

Looking Back

A year ago, an 18-year-old kid with an assault rifle killed nineteen fourth-graders and two teachers at Robb Elementary School in Uvalde, Texas. The gunman, Salvador Ramos, massacred the students while officers waited outside for more than an hour before engaging him. It's been a year since the shooting, and families of the victims are still grieving, whilst fighting for gun control and answers.

The Robb Elementary School shooting is the third-deadliest school shooting in the U.S. after the Sandy Hook Elementary Massacre in 2012 and the Virginia Tech Massacre in 2007.
In this past year, the victim's families have fought for new restrictions and more transparency, but the government presented resistance to cooperating.
After the shooting, Gov. Greg Abbott publicly condemned the massacre, but instead of addressing Texas' mass shooting problem, he blamed the Uvalde massacre on mental health – while at the same time cutting a lot of mental health spending.
At the state Capitol in Texas, families showed up repeatedly to push a bill that would have raised the age to buy semi-automatic rifles from 18 to 21, but the bill barely got a vote and never made it out of committee, dying just days before the one-year anniversary of the Robb Elementary massacre.