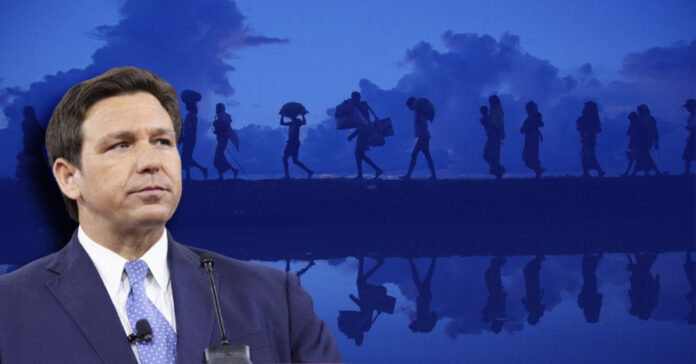 Florida Gov. Ron DeSantis visited the town of Eagle Pass this Monday, where he proposed hard-right immigration policies, including the idea of using deadly force on people breaking through border barriers with hostile intent.
DeSantis also presented the proposal of allowing state and local law enforcement officers in border states to arrest and deport migrants. This is a power that is reserved for the federal government and the Supreme Court ruled in 2012 that states cannot enact their own immigration policy, but DeSantis, if elected, hopes to change this.
Regarding the use of deadly force on people breaking through border barriers or suspected drug traffickers, he did not clarify how officers would determine which people crossing the border were smuggling drugs.
"If the cartels are cutting through the border wall, trying to run product into this country, they're going to end up stone-cold dead as a result of that bad decision," DeSantis said.
This is a part of DeSantis' campaign for presidency against Donald Trump. Former president Trump was known for his border policies and DeSantis sees an opportunity to make these policies even tougher. He said that he would also seek to change the American immigration law, like the law that automatically grants citizenship to those born in the United States.
Eagle Pass is a city of 30,000 people two hours west of San Antonio that has seen a sudden increase of Cuban and Venezuelan immigrant encounters with the law. Gov. Greg Abbott has deployed state police and the National Guard to push back migrants.
Weeks before his Texas trip, Bexar County Sheriff Javier Salazar filed criminal charges at DeSantis's administration for taking 49 migrants from San Antonio and shipping them to Martha's Vineyard in Massachusetts. The migrants were misled by DeSantis's people who promised them jobs, housing, and support for their asylum applications.
The majority of DeSantis's proposals are really hard to bring to reality, and they are very likely to be empty promises to win his run against Donald Trump.
"The purpose is probably not a serious policy debate but instead to focus on an issue that is a weakness for Biden and a sensitive one for Trump," said Louis DeSipio, a political scientist at the University of California.