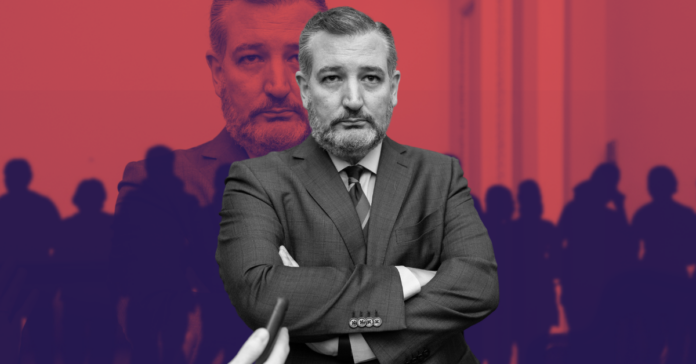 Heckled behind the scenes and in the flesh, Sen. Ted Cruz's New York Trip was a reminder of the Texas Republicans' very vocal support for "The Big Lie" and its perpetuator, former President Donald Trump.

On Monday, Cruz sparred with the hosts of ABC's The View, who accused him of undermining democracy. And at one point a climate protester shouted the F-bomb at Cruz, though, according to The Dallas Morning News, viewers didn't hear it beacuse the network cut audio.

Before that, at the Astros game Sunday night, Yankee fans decided to let the Senator know their opinion of him.

Cruz was given a big thumbs down from one fan and, at least three other fans were flipping him off, as seen in an image shared on Twitter by member "Wu-Tang is for the Children."

Other videos showed hecklers shouting abuse, calling him a "racist piece of s—" and urging him to "Go back to Cancun!" a reference to his brief getaway when a winter storm knocked out power for millions of Texans last year.
During his appearance on The View, Ana Navarro, Whoopi Goldberg,  and other co-hosts bombarded "Cancun Cruz" with questions, judging his character and his alliance with Trump.  

"We may not like when Republicans win, but … we don't storm [the Capitol]. We don't try to change" the outcome of an election, co-host Whoopi Goldberg told him in one testy exchange, as reported by The Dallas Morning News.

Cruz led a group of senators who challenged the state-certified results from Pennsylvania and Arizona the day of the Jan. 6, 2021 Capitol riot, and since then has been a big promoter of "The Big Lie."

His appearance on the show was part of a tour to promote his latest book, Justice Corrupted: How the Left Weaponized Our Legal System, which will be released Tuesday.

Recalling the Jan. 6 riot, Navarro said: "I would say your responsibility was to a constitutional democracy, not to Donald Trump."

Co-host Alyssa Farah Griffin, who resigned from Trump's White House staff and has since become a critic, added to Navarro's point: "How can you be okay with these undemocratic actions and trying to disenfranchise 80 million voters? And do you believe Biden legitimately won the election?"Cruz's response was for viewers to read his book for his views on Jan. 6. As to who really won, he said only that "Biden is the president today."