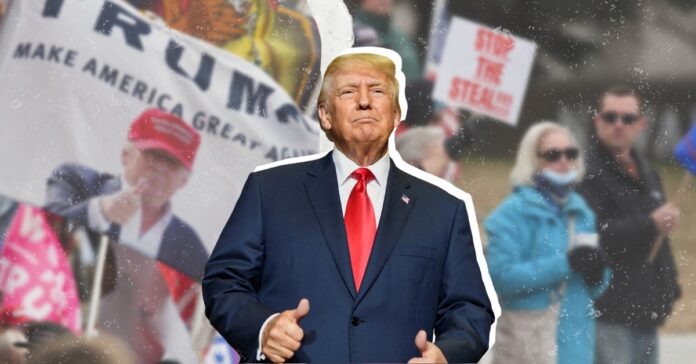 Sen. Ted Cruz and Sen. John Cornyn and other Republicans denounced former President Donald Trump for suggesting that the U.S. Constitution should be thrown out to overturn the 2020 election, as Republicans across the nation prepare for the 2024 primaries. They also indicated that his endorsements and other activities during the midterm election cycle hurt the GOP nationally.
"The Constitution is enduring and it will be for millennia to come," Cruz told reporters Monday night at the Capitol, but ignored questions about whether the remark was disqualifying for a presidential candidate.
"A Massive Fraud of this type and magnitude allows for the termination of all rules, regulations, and articles, even those found in the Constitution. Our great 'Founders' did not want, and would not condone, False & Fraudulent Elections!" Trump posted on Truth Social earlier this week.
"Oh listen, of course what he said was wrong," Cruz told Nexstar TV on Tuesday. "But I also think the media is engaged in a feeding frenzy. I've never seen reporters so excited as to run up to every Republican and say, 'Please, please, please attack Donald Trump."
But Cornyn was more critical of the former president. He told Capitol reporters "I don't know why anybody would say something like that, certainly not an ex-president. I think that's irresponsible."
Cornyn added that Trump's Truth Social post in which the current Republican candidate suggested that the constitution should be thrown out and that he should retake the White House could hurt his chances of becoming the nominee in 2024.
Other Senate Republicans repudiated the former president's post as well, including minority party leader Sen. Mitch McConnel.
"Let me just say, anyone seeking the presidency who thinks that the Constitution could somehow be suspended or not followed, it seems to me would have a very hard time being sworn in as President of the United States," McConnell told CNN.
But criticism of Trump's post is coming from both sides of the aisle, with members of the two parties stating that the remarks were a dangerous ratcheting up of the former president's blatant disregard for the U.S. democracy and its institutions, and should be strongly condemned.
And Texas Republican Rep. Dade Phelan, Speaker of the Texas House, also complained about the national parties' midterm efforts in a tweet following the loss after another Senate loss in Georgia.
While not naming Trump, he complained about weak candidates costing the party what many thought to be easy victories. But he seemed to call out the national GOP for its failed efforts.
"It is unfortunate & undeniable. If you are a Republican, this is just another wasted DC opportunity…because having the best candidate actually matters. Perhaps DC should focus on our successes & follow our lead," Phelan wrote.
GOP senators are also upset about their loss in the Georgia Senate runoff, calling for better candidates and contending that Trump caused a poor midterm showing since the majority of the candidates he endorsed lost.
Democrats will hold a clear majority in the Senate next year, winning the Georgia seat, the 51st. The result officially ended the 2022 midterms, which saw the Republicans fall gravely short of their expected haul of congressional seats, winning only a narrow House majority.
The party had been hoping for a so-called "red wave" to retake control of both chambers of Congress, but Democrats outperformed the polls in many races nationwide, and many blame Trump for his endorsement of far-right election-denying candidates.
Senate GOP Whip John Thune said he felt Trump's presence on the trail cost the party in the midterms because he distracted the public from Republican talking points, namely President Joe Biden's policies.
When asked if Trump was a problem for their party Thune said "Well, he was of course very active in the primaries and even in the general election because he was a presence out there and in an election year where it should have been a referendum on the current admin and their policies."
"The Dems were in many cases able to turn it into a choice election because of Trump's presence out there — so was he a factor? I don't think there's any question about that," Thune added.
Sen. Mitt Romney of Utah agreed, saying "I don't think there's any question about that," and added, "I think President Trump has had a very substantial impact on who's going to win a primary and it hasn't worked out well."
"Hopefully we'll recognize that his endorsement can be the kiss of death," Romney added.
In addition to Trump's continually bemoaning his 2020 loss to Biden, he was in the news Tuesday when two of his companies were found guilty of criminal tax fraud in New York's highest court.
The news broke as Georgia voters cast their ballots in the Georgia Senate runoff between current Sen. Raphael Warnock and GOP challenger, Hershel Walker, handpicked by the former president.
Other Republicans cited Trump's announcing his 2024 bid as yet another distraction that cost the party in this election cycle. "Frankly, he should have waited [to launch his campaign until] after the Georgia contest was decided," said Michael Biundo, a national Republican strategist who served as an adviser to Trump in 2016.
"To me, the rollout seemed rushed and incomplete. I give it a D-minus," he told NBC News.