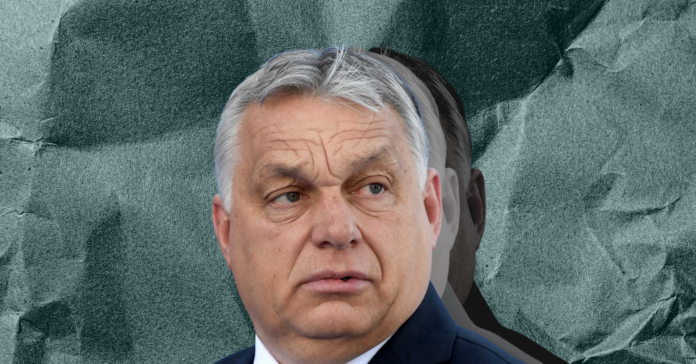 Viktor Orbán, the pro-Putin, far-right Hungarian prime minister who last week denounced "race mixing," spoke Thursday at the Republican CPAC conference in Dallas. He complained that Hungary was "under the siege of progressives, liberals day by day," and added that he was "the only anti-migration political leader on our continent," which was greeted with applause, according to the Guardian.
Orbán's CPAC speech, entitled "How We Fight",  focused on pushing Christian values in American politics to fight off "progressive liberals." "You cannot fight successfully by liberal means," he added.
Orbán presented himself as a kindred spirit to American conservatives, and urged them to fight against their common enemies; globalists, progressives, communists, and "fake news." 
"The West is at war with itself," Orban said. "The globalists can all go to hell. I have come to Texas," in an maladroit reference to Davy Crocket's famous line, "You may all go to hell and I will go to Texas."
In an apparent reference to his "mixed-race" remarks on Thursday, Orbán said, "don't worry, a Christian politician cannot be racist."
Following the well-worn path of the American right, he portrayed himself as a victim. "I can already see tomorrow's headlines," he said, "far-right European racist, anti-Semite strongman — the Trojan horse of Putin — holds speech at the conservative conference. They did not want me to be here and they made every effort to drive a wedge between us. They hate me and slander me and my country as they hate you and slander you."
Orbán spoke to an enthusiastic crowd, according to the Washington Post, receiving a standing ovation.  When he said he is the "leader of a country that is under the siege of progressive liberals day by day," someone in the audience yelled, "YES!"
There was loud applause when Orbán talked about refugees from war-torn Syria as an "invasion of illegal migrants" and likened them to the armies of Genghis Khan.
Orbán finished by referencing upcoming elections in the U.S. and in Europe. "These two locations will define the two fronts in the battle being fought for Western civilization," Orbán said. "Today we hold neither of them yet. We need both. You have two years to get ready."
Before he arrived in Dallas, Orbán visited Donald Trump at his golf club in Bedminister, N.J. In a statement on TruthSocial, Trump called Orbán his "friend" and added, "few people know as much about what is going on in the world today"
During a 2019 meeting with Orbán held in the Oval Office, President Trump described the Hungarian leader as "probably like me … a bit controversial, but that's OK." Trump endorsed Orbán for reelection earlier this year, praising the prime minister as a "strong leader." 

Orbán was widely rebuked last week after he made a speech arguing that Europeans should not "become peoples of mixed race."  Orban also seemingly joked during the speech about Nazi gas chambers, saying in regards to proposed natural gas rationing, "the past shows us German know-how on that."
One of Orbán's aides, Zsuzsa Hegedüs, who is Jewish, resigned in disgust after calling his comments "pure Nazi text worthy of Goebbels" and the "racist" culmination of an increasingly "illiberal turn." 
The United States denounced the comments as "inexcusable," and U.S. envoy against anti-Semitism Deborah Lipstadt added that she was "deeply alarmed" by the "use of rhetoric that clearly evokes Nazi racial ideology."
The International Auschwitz Committee of Holocaust survivors criticized Orbán's remarks as "stupid and dangerous" and demanded other E.U. leaders "make it clear to the world that [a leader like] Mr. Orbán has no future in Europe."
The Washington Post editorial board said last week that Orbán, who runs "a country whose GDP is more meager than that of Kansas and whose population is smaller than Michigan's, has become a role model for America's right-wing populists who admire his blueprint for dismantling democracy" and for attacking "woke" culture.
"Shunned in Western Europe," they continued "he naturally goes where he is appreciated," and "will arrive to what is likely to be an adoring welcome at the annual Conservative Political Action Conference."
On Wednesday, Tucker Carlson defended Orban. "So Viktor Orban is now a Nazi because he wants national borders?" Carlson said. Carlson praised Orban as a role model for Americans in a broadcast from Budapest last year.
According to their website, the Conservative Political Action Conference, or CPAC, "is the largest and most influential gathering of conservatives in the world. Launched in 1974, CPAC brings together hundreds of conservative organizations, thousands of activists, millions of viewers and the best and brightest leaders in the world." The conference runs Thursday through Sunday at the Hilton Anatole in Dallas.
The theme of this year's conference is "Awake, not woke." Former President Donald Trump is keynote speaker for the main event Saturday night. Texas Gov. Greg Abbott, Lt. Gov Dan Patrick, Sen. Ted Cruz, and Texas Attorney General Ken Paxton are all scheduled to speak throughout the weekend.
Other notable speakers include Fox News commentator Sean Hannity, Rep. Marjorie Taylor Greene, Rep. Lauren Boebert, former HUD Secretary Ben Carson, MyPillow CEO Mike Lindell and former Alaska Gov. Sarah Palin.
Former Trump adviser Steve Bannon is the headliner for Saturday night's Cattleman's Ball, a high-dollar CPAC-associated fundraiser.
Portions of the convention will be livestreamed on CPAC's website. CSPAN will also air some segments.