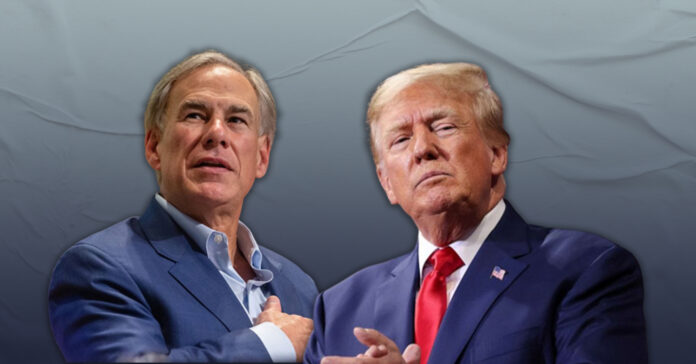 Just two days before early voting begins in Texas, Donald Trump will appear in one of his trademark grievance rallies in Robstown, a Texas city near Corpus Christi. Noticeably absent will be the incumbent governor of the state, Greg Abbott.
On Tuesday, Abbott said in a statement that he will be missing the event to attend a fundraiser in Florida. "I welcome President Trump back to Texas, though I won't be able to welcome him personally since I will be out-of-state for a pre-planned fundraising trip to Florida," Abbott said.
Despite the estimated record amounts of cash Abbott has amassed in this campaign, he is still in a pitched battle with O'Rourke who differs from him in almost every conceivable policy issue.
Speculation that Abbott, who is seeking a third term next month, is dodging the rally might be reinforced by a recent Marist College poll showing Abbott only leads O'Rourke 49 percent to 45 percent among registered voters, within the poll's margin of error.
It also showed that 43 percent of respondents held a favorable opinion of Abbott, while 46 percent had an unfavorable opinion of him.
But with independent voters holding the key to his re-election bid, he conveniently won't appear on stage with Trump and the other 2020 election deniers.
O'Rourke has a 10-point lead over Abbott among independents, who strongly reject the continuing "Stop the Steal" rhetoric nearly two years after the matter was settled by the voters.
According to extensive reporting by the Texas Tribune, Abbott is the most prolific fundraiser in state history. He outpaced his two predecessors, George W. Bush, who went on to become president, and former governor Rick Perry, who served for a record-breaking 14 years.
If Abbott wins the victory will likely be due to the decades of million-dollar-plus donations, which topped $65 million last year.
Kelcy Warren, the co-founder of a pipeline company that made $2.4 billion after the 2021 winter storm, gave Abbott $1 million for allegedly going easy on the energy industry as the state legislature attempted to address the unreliability of the state's power grid.
In 2018, the last midterm election cycle, Democrats like O'Rourke and other statewide Democratic candidates did much better than in previous state-wide races going back decades, even though they came up short. And Trump proved to be an anchor for the Texas GOP thought to be sailing through his first term as Democrats picked up 12 state House seats.