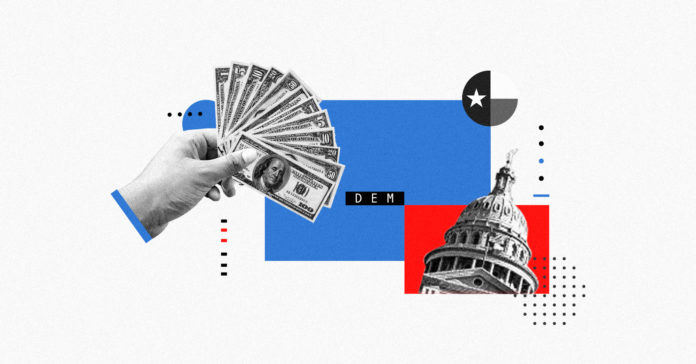 People have been saying Texas is a swing state for months now, as though they can will it to be. I see polls showing the presidential race is close, but, well, I need more before I can get there.
I'm very much a data person. I need to see something for it to feel tangible to me.
If you happen to follow me on Facebook or Twitter, you know I'm a numbers guy, specifically state-level campaign finance numbers. I'm not some political operative who's been in politics forever. I'm just someone who saw things happening, couldn't understand why, and then started following the money. Once I figured out a few things, I started sharing, trying to make it accessible to others. This led me to tracking all the money going into state-level candidates during the full 2018 election cycle. And it's what I'm doing in the 2020 cycle. What I've pulled together on the Texas House races has me seeing the light. Texas really is looking like a swing state. Here's where the numbers come in.
In the 2018 election cycle, I tracked 136 candidates with an "R" next to their name, 124 with a "D", and one with an "I" (who definitely leaned more "D," so I'll include their numbers). To make sure we are comparing apples to apples, my 2018 numbers are based on the period from January 1, 2017-June 30, 2018, the first 18 months of the cycle.
During that 18-month time period in 2018, the 125 Democrats had 14,530 unique donors to their campaigns, giving a total of $9.7 million. The average donation was $361, and the median donation was $100. On the other side of the aisle, the 136 Republicans had 18,752 donors (29% more donors) and raised $36 million (370% more). The Republicans average donation was $1,082, and the median was $250. At the end of June 2018, the Republicans had 4,000 more donors, giving $26 million more, and when the dust settled in November 2018, Texas Democrats had flipped 12 seats in the Texas House, a few more in the Texas Senate, and a U.S. Senate seat race was closer than almost anyone expected.
The question in my mind was how all of that would translate into the 2020 cycle? Would the momentum continue for the Democrats? Surely the Republican donors would push more chips into the middle of the table to gain seats back, right?
Now that I've had the opportunity to go over all of the campaign finance reports filed with the Texas Ethics Commission late last week, I am starting to see patterns emerge. Some of the names who played so prominently in 2018 aren't here at all, and others are stepping into that void. The numbers of donors jumped, more than a little. Here is where we are as of June 30, 2020.
In the 2020 cycle, I've tracked 134 Democrats (up 9 candidates or 7.2%) and 136 Republicans (exactly the same as 2018). Unique contributors to Democratic candidates for the Texas House now stand at 36,921, a WHOPPING 152% increase from the same point in the 2018 cycle. The Republican candidates have seen 18,725 unique contributors, technically down by 0.1%, but it's basically flat. And what about the money? Big changes there, too. The Democratic candidates raised $21.2 million (up 117% from 2018), Republican candidates $25.6 million (down 29% from 2018).
The average and median donations are what I think really tell the story. For the Democrats, they saw a whole lot more donors show up, but their average contribution dropped from $361 to $314, and their median dropped all the way down to $28. My read of that is the grassroots of Texas showed up and started giving, not to Republican candidates, but to a whole host of Democrats. What about the Republicans? How do I look at a $10.5 million dollar drop in contributions while contributors stayed flat? The Republican average donation dropped from $1,082 to $910 (still basically 3x what the Dem average is) but the median stayed at $250. This means the people at the top are writing smaller checks.
It is at this point you notice the almost total absence of Empower Texans and its financial influence. Yes, Empower's major funder, Farris Wilks, dropped $1.3 million into son-in-law Jon Francis' failed run for Texas House District 60. Yes, Wilks and Tim Dunn, another major Empower funder, both contributed $75k each to Bryan Slayton in the House District 2 race. And yes, Texas Right to Life (another favorite for Wilks and Dunn) waded into the races for Francis, Slayton, Carrie Isaac in House District 45 and Shelby Slawson in House District 59. But that was nothing compared to what we have seen in years past. Word is (and a glance at the Federal Election Commission site helps confirm) that those behind Empower Texans have their gaze affixed upon the presidential race, giving support to Donald Trump. They believe if he loses, the extreme ideals they have championed will move further away. They are right.
Numbers tell a story. Comparing numbers cycle to cycle can also paint a picture. I'm seeing a grassroots push on the Democratic side of the races, illustrating enthusiasm and maybe a healthy dose of fear of where we've been headed. On the Republican side, some of the money that in the past would have gone to state-level Republicans is headed to Washington, staying home, or maybe even heading over to Democrats. Well, if that doesn't put Texas in play, I'm not sure what else might.
Does the change mean the Texas House flips? It only takes nine new races to go the Democrats way in 2020. Twelve seats flipped in 2018 when the numbers (people and dollars) looked very different for Democrats.
Does Texas go blue? It's all about turnout and who actually shows up on Election Day. We've got just over 100 days until then. A lot can change between now and Nov. 3, but for the first time in a very long time, Texas really does look like a swing state.
Christopher Tackett follows the money at christackettnow.com, is a founding member of Project Ēdūcō, a public education scorecard for the Texas Legislature, a former school board trustee, and a proud parent and husband.