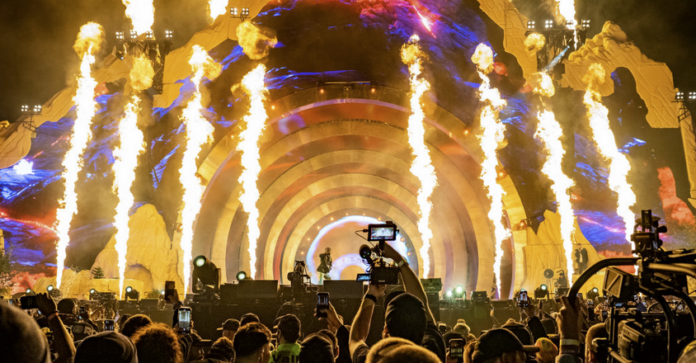 "Ragers," rapper Travis Scott calls his passionate, energetic fans. In April the ragers bought all 100,000 tickets to the two days of Astroworld 2021. The music festival sold out NRG Park months before Scott had even announced who'd perform.
He didn't have to. The ragers already knew everything that Astroworld stood for: That it was the name of the theme park Scott grew up with here in Houston; that it was the name of his 2018 album, and then the name of his 2019 music festival – the live, 3-D execution of Scott's psychedelic, minor-key vision: hip-hop crossed with Hieronymus Bosch, a dash of '70s, a whole lot of Houston.
"Funhouse-mirror maximalism," critic John Carramanca called Scott's style. In all its incarnations, Astroworld, like its city, was too, too much. When it worked, it was thrilling.
And this year, after all of COVID's deprivations, people were starved for it.
***
You already know where this story is going. Friday, as Scott performed the closing set for what was supposed to be the first night of Astroworld 2021, the ragers began surging toward the stage. In front, the pressure built to a crush. People couldn't breathe. People were trampled.
Eight died: a 14-year-old, a 16-year old, and four people in their twenties. Many more were injured.
We don't yet know all the details. There will be investigations. But the reports so far are harrowing.

Fans called for Scott to stop the show; it's not clear whether he heard them. He sang "No Bystanders."
Golf-cart-like ambulances moved through the crowd. From the stage, Scott urged the crowd to make room for one. But the show went on: He told the ragers he wanted to "hear the ground shake."
Shake it did. "You were at the mercy of the wave," wrote Instagram user Seanna Faith. After she was nearly trampled, she escaped the mosh pit and climbed a camera man's platform, screaming for the concert to stop because people were dying. She was booed.

At 9:38 p.m., Houston police and firefighters were called out to a "mass casualty incident."

But for 37 more minutes, the Houston Chronicle reports, the concert not only went on, but increased in intensity. When Scott introduced superstar Drake, a surprise special guest, the ragers' frenzy peaked.

Scott and Drake closed the set, as planned, with "Sicko Mode." The high-tech set's light show flashed. There were fireworks and gouts of flame. It was spectacular.

And people were dying.
***

This late in 2021 – a year of too many deaths, too much rage, and too many systems failing – you'd think that nothing would faze us, that we couldn't be shocked, that we wouldn't have hearts left to be broken. But you would be wrong.
Lisa Gray is the newsletter writer and podcast host for City Cast Houston. Sign up for it here.