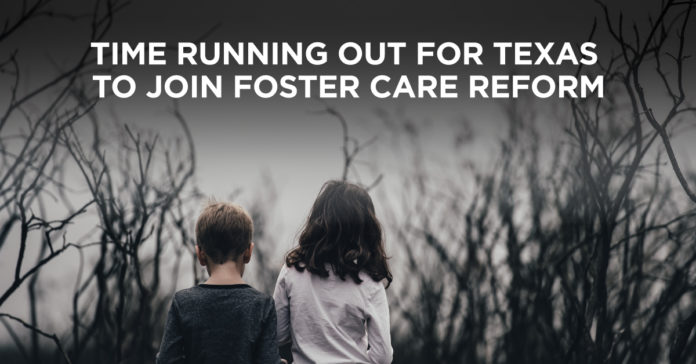 By Jef Rouner

In early 2018, President Donald Trump signed into law the largest rewrite of America child welfare policy in two generations. But unless the Republican-led legislature in Texas takes action, the state will miss out on federal money that benefits at-risk kids, including abuse victims and those in foster care.

The Family First Prevention Services Act is a bold new way to tackle the problem of children who need to be removed from harmful environments or who are at risk of being removed. For the first time ever, federal funds are being used to prevent people from winding up in foster care.

"This is something Texas desperately needs," Sophie Phillips, CEO of TexProtects, told Reform Austin. "CPS has been designed to respond to families with child abuse cases. However, a large component of [families] have substance use or mental health issues. TexProtect has done some analysis of vulnerable families with children under the age of five, and we believe at least 425,000 families will benefit from these services. There is, however, a dearth of services, particularly in rural areas. One of the strategies that we need to look at is targeting these families."

The hope is that Family First can be used to identify and treat problems before they get to the point where children have to be removed. The initiative will be funded through Title IV-E of the Social Security Act. Until 2026, the federal government will provide half of the funds for the program. After that it will be linked to the federal medical assistance percentage.

The hope is that this change will lessen the load on the foster system by keeping children with their own families when possible. In particular, addressing substance use problems could have a major impact.

"Sixty-eight percent of removals in the state are related to substance use," says Phillips. "If we can address that, we will be doing a huge service to families.

One issue that worries many foster care advocates is how slowly the state legislature has been to tackle the issue. The law goes into effect October 2021, but the state has only begun to start the search for the best way to take advantage of Family First.

This past session, three bills (HB 2764, SB 355, and SB 781) were introduced to begin some of the process, but it will be at least 2021 before any money is spent making the state ready, and no funding was approved this year.

"If we're going to start making those changes, improving facilities and hiring people, that can't all happen in a month," Kate Murphy, Senior Child Welfare Policy Associate at Texans Care for Children told Reform Austin in an interview. "Some of it will take a while. We may not be able to start using that money. We are also going to take a hit on the foster care side because providers who were receiving federal funds will no longer qualify. The processes they need to do so can take up to 18 months."

One of the main concerns involves large-group foster care facilities. The new law comes with some hefty new regulations regarding these facilities, and as of right now none in the state qualify. If they aren't brought up to the law's guidelines by October 2021, all funding they currently receive will be withdrawn.

Considering that the earliest that the state can approve new funding for the preparations is September 2021, that leaves most advocates quite nervous about whether the state will be able to meet demand.

"We have a number of providers that are close, but we definitely don't have very many," says Murphy.

There has been some lack of guidance from the federal side about exactly what their "evidence-based" requirements mean. States that have already begun trying to comply have done so cautiously and without being sure what the government wants.

"There were some lawmakers this past session that were interested, but there are still a lot of legislators who aren't up to speed and in a bit of holding pattern," says Murphy. "Plus, there's this sense that federal guidance hasn't really come out yet. A lot of people are building the plane as they fly it."

Murphy says that one of the ways Texans themselves can help is signing up to be foster care providers. The funding that is at risk is for group homes, not individuals.

"This is a great time to become a foster parent because we are definitely going to lose some of the group homes," says Murphy. "We're not losing funds for foster homes, though. If you've been waiting to try it, now is the best time."

Overall, the Family First Act is a step in the right direction, and the Texas legislature is moving on it. However, lack of leadership and the peculiar Texas legislative cycle are forecasting a very bumpy ride for the fall of 2021 when all the widgets of the program will have to come together. Even then, there will be a lot of work left to do to improve the system.

"Family First is a complete paradigm shift, with congress and our state realizing we need to focus on prevention," says Phillips. "However, we need to pause for a little bit. In Texas we're focusing on people already engaged in the foster system, even though we know that more than 40 percent of children who end up in foster care are not already in the system. There are huge numbers who are vulnerable, but haven't been targeted because we're not looking for people until they do enter the system. If they aren't the priority, they end up waiting even if they are high risk."