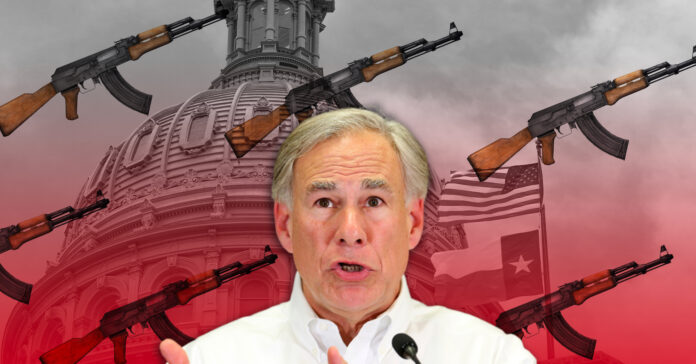 Amid calls for a special session for legislative reforms to address and prevent mass shootings like Uvalde, Gov. Abbott has instead stuck to the same delay tactics he has used in the past that led to a legislative session where gun restrictions were loosened. 
Abbott's first response to a call for a special session two days after the mass shooting at Uvalde was pointing to the 2019 school safety and youth mental health reforms as "profound" but saying "our work is not done" with no promises of roundtables and task forces as he did after El Paso and Santa Fe shootings.
Three days after the shooting, Abbott did not foreclose the possibility of calling a special session, saying "all options are on the table" and all existing school safety policies will be reexamined. The former statement matches the responses he has given for separate issues in the past year.
After a week of sustained criticism and calls for action by the public, Abbott turned to the Texas Legislature and requested they create committees to study and recommend everything but gun restriction legislation. On Friday, he commended the Lt. Governor and House Speaker for doing as he asked. He did not disclose to the public that those recommendations will not take effect until the 2023-2024 school year.
When the Texas Legislature is not in session, no bills can be passed and signed into law. The sole power to call a special session rests with Gov. Abbott.
In the past week, Abbott used his executive authority in all the following ways except to call a special session:
None of these actions created new policies which did not already exist before the shooting at Robb Elementary.
As the Quorum Report's publisher Harvey Kronberg pointed out, calling a special session less than half a year before a general election serves no political advantage to Gov. Abbott, especially as he seems unwilling to advance specific policies on an issue whose solutions are as contentious as gun violence prevention all the while being under intense scrutiny by the local and national press.
There has not been any evidence to indicate Abbott will act outside of his political interest to call a special session, even if it concerns preventing further loss of life.
While Abbott delays legislative action, other top Texas Republicans have expressed some urgency after Uvalde. With shifting narratives from state police and finger-pointing at who made mistakes during the tragedy, House Speaker Dade Phelan used his authority to create an investigative committee with subpoena power to find out what happened, in addition to ongoing DPS and FBI investigations. Lt. Gov. Dan Patrick is using his bully pulpit to push for the hardening of schools and immediate funding of bulletproof shields for school officers.
Neither action alone will make a substantive difference for students heading into the next school year.