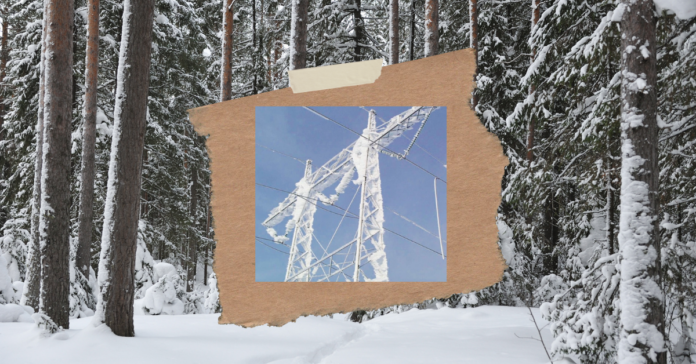 While plans to redesign the Texas power grid are still being debated in the Texas Legislature, the Electric Reliability Council of Texas (ERCOT) is using social media to reassure the public that there is enough power to withstand the winter storm that hit the state this week.
ERCOT tweeted, "With potential freezing precipitation moving through the Panhandle/North/West areas of the ERCOT region next week, we continue to monitor forecasts and expect a sufficient generation to meet demand."
Gov. Gregg Abbott announced Tuesday in Austin that he has mobilized state emergency response resources across several state agencies, but he is likely to be criticized again regarding his response time in addressing winter storms, such as the devastating Winter Storm Uri in February of 2021. The storm was known to be headed the state as of last week.
The storm is bringing ice and freezing rain across multiple states to the north and east of Texas, as Oklahoma, Arkansas, Kentucky, and Tennessee are being hit by the storm Tuesday.
The National Weather Service predicts dangerous travel conditions will continue into early Thursday morning and estimates that tens of millions of Texans are expected to experience "an extensive and very dangerous ice storm" over the next few days due to a mixture of arctic air and a surge in moisture.
KHOU 11 meteorologist Pat Cavlin warns that more should have been done to alert the public.
"I feel like now is the time to start sounding the alarm on a potentially significant ice storm across much of Central & North #Texas," Cavlin tweeted. "These are ice accumulations by Wednesday evening. For reference, .25 [inches] of ice adds 500lbs of weight to a powerline span…"
Adrian Shelley, the Texas office director at Public Citizen, wrote to Newsweek following the ongoing discussion of the state grid that "Texans are worried, as the constant reassurances by the grid managers at ERCOT show. If this year…brings another severe winter storm, we'll have Texas leadership to thank for another disaster," he added.
The debate regarding the effectiveness of Texas' "winterization" efforts that have indeed made the grid more stable is still ongoing, but the Public Utility Commission (PUC) says that they expect to see the peak demand times met.
"We are better prepared than ever," said Peter Lake, chairperson of the state PUC. "I expect the lights will stay on," he added.
According to the ERCOT weather forecast webpage, winter storm warnings are in place for most of North and Central Texas, the Hill Country, and the ERCOT West zone through Wednesday morning, which the site says "will likely be the coldest of the week."
Dallas ABC affiliate WFAA meteorologists forecast repeated rounds of freezing rain and sleet with ice accumulation ranging from .10 in. to .50 in. across the DFW metro area. The Winter Storm Warning is in effect until 6 a.m. Wednesday morning.
Accuweather reported Tuesday that any amount of freezing rain over 0.20" to 0.49" will likely cause tree branches to break and some power outages to occur. They also predict that any frozen precipitation greater than that will cause significant widespread power outages in North and West Texas.
AccuWeather Senior Meteorologist Joe Lundberg told Newsweek Monday that the freezing rain isn't expected to cause such widespread issues as Winter Storm Uri did in 2021, but he did express concerns about the ice predicted to threaten power lines in Dallas and the surrounding region.
"The concern is that the ice is going to accumulate to road surfaces, sidewalks, driveways, bridges, you name it, but it also has the opportunity to stick to things like power lines and utility lines," Lundberg said. "If the weight gets to be enough, it can down power lines, something that compromises the power grid."
An even more immediate concern is road conditions. According to the Fort Worth Star-Telegram, North Texans should not be driving if at all possible on Tuesday and Wednesday, as road conditions will grow more hazardous as more sleet and freezing rain is expected through Thursday morning, officials say.
Hundreds of crashes occurred Monday on icy roads in Fort Worth sending at least 25 people to hospitals, as MedStar ambulances responded to 142 motor vehicle accidents in North Texas, including 16 rollover crashes.
KXAS, the NBC affiliate in the Dallas Forth Worth area reports roads will become nearly impossible to navigate in some areas for days, with bridges and overpasses likely to remain icy. The station advises that if you must be on the roadways, use extreme caution, and carry a flashlight, food, and water in your vehicle in case of an emergency.
KVUE, the ABC affiliate for Austin reported Tuesday that police and firefighters responded to multiple overnight crashes due to winter weather, with at least one fatality reported Tuesday.
To add to the woes of embattled Southwest Airlines, the company has canceled more than 300 flights at Dallas-Fort Worth International Airport and Dallas Love Field according to flight tracker FlightAware. Total flight cancellations for the area topped 700.