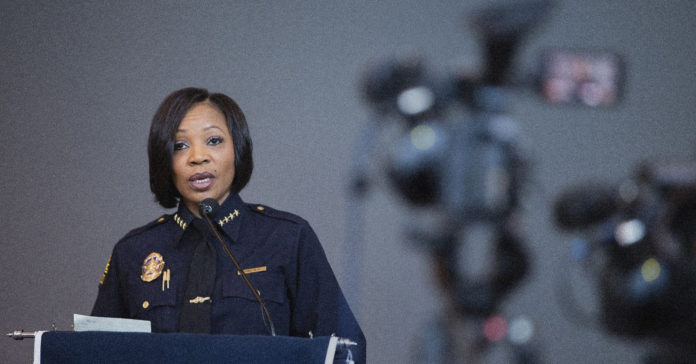 Dallas Police Chief U. Reneé Hall has announced she will be leaving the department at the end of the year. The 49-year old has served as chief of police for Texas' second-largest city since 2017. She is the first woman to hold the position.
Hall has been under fire from Mayor Eric Johnson, the city council and the public for the Dallas police department's handling of the protests that followed the death of George Floyd earlier this summer. She has also been criticized for a rise in violent crime.
"We've had double-digit increases in crime," Dallas Police Association President Mike Mata told CBS Channel 11 in Dallas. The murder (rate) is at where it was last year if not greater. And the debacles we've had time and time again, a lack of leadership, a lack of decision-making."
Mata added, "We needed a more dynamic, more experienced chief that could build morale better than she did and had crime-fighting abilities that were stronger than hers."
"These past three years have been saturated with a series of unimaginable events that individually and collectively have never happened In the City of Dallas," Hall wrote in her resignation letter. "I am proud that this department has not only coped with an unthinkable series of events, but we have also managed to implement critical reforms that were clearly needed for the Dallas Police Department to meet our 21st century policing goals."
Dallas City Manager T.C. Broadnax wished Hall well and thanked her for agreeing to stay until the end of the year to allow time to find her replacement.
"In her three years of service, Chief Hall has provided consistent, passionate, resilient and robust leadership to our city," wrote Broadnax. "She has implemented a host of reforms that will assist our department as we move forward. I believe Chief Hall has succeeded in placing DPD on a path of true 21st century policing, and our next chief must have that same stout commitment to excellence."