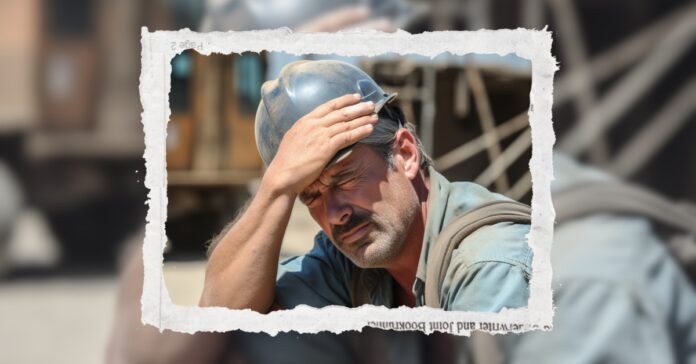 Stepping outside in Texas right now is like putting your head in an oven. Dallas was hotter than 99 percent of the planet last week, and the heat index has stayed above 110 in most of the state since mid-June. It is undeniably dangerous, socially for construction workers. Nonetheless, a new Republican law will strip them of their water breaks in Texas cities.
The Texas Regulatory Consistency Act was signed by Governor Greg Abbott and will take effect September 1. It's part of a swath of law aimed at removing the authority of Texas cities, which are increasingly Democratic and also the areas where the state is seeing most of its population growth. The text of the law makes it illegal for cities to pass any ordinance that is not backed up by the power of state authority. Essentially, if the state doesn't already have something on the books, a city can't either.
During the debates for the bill, it became known as the Death Star from opponents, particularly when it came to water breaks. For years, Austin and Dallas have had laws where construction workers laboring in extreme heat were required to take 10-minute water breaks every four hours. These came after a string of deaths from heat stroke.
Under the new law, the city can't mandate such a precaution. Claiming that the bill was needed to trim down regulation confusion and red tape, supporters said that workers were adequately protected by federal labor regulations.
"Saying that our job sites are going to be less safe because of this bill is blatantly false," Geoffrey Tahuahua, president of Associated Builders and Contractors of Texas and supporter of the law, told USA Today. "We would challenge that, because again, our industry is really committed to the safety of our workers. That's something we take very seriously."
Sen. Brandon Creighton (R-Houston," argued against an amendment to the bill exempting water breaks, again saying that federal regulations will be sufficient to protect workers.
The question is: if federal regulations are enough, why does Texas lead the nation in heat-related worker deaths?
Between 2011 and 2011, the U.S. Bureau of Labor Statistics reported 436 heat-related deaths, and more than 10 percent of them were in Texas. The state has the highest number of such deaths, and it's a main reason why construction in Texas is the most dangerous job. Up to seven construction workers in Texas die every week, a number that spikes in the summer months.
The federal Occupational Safety and Health Administration doesn't mandate that workers get in the heat get water breaks. There has been a push for such a regulation, but it is likely years away. Even if instituted, the organization is stretched thin and underfunded. Many construction workers are undocumented and poor, making it difficult for them to fight back under the umbrella of a far away and overworked agency like OSHA.
Experts found that even the laws passed in Dallas and Austin were not adequate to protect workers. With those minimums gone and laborers reliant on "advice" from OSHA, there is little reason to think heat deaths will do anything but continue at their same, monstrous pace. That seems to be an acceptable price for Texas Republicans keen to hamper the legal authority of Democratically controlled cities.