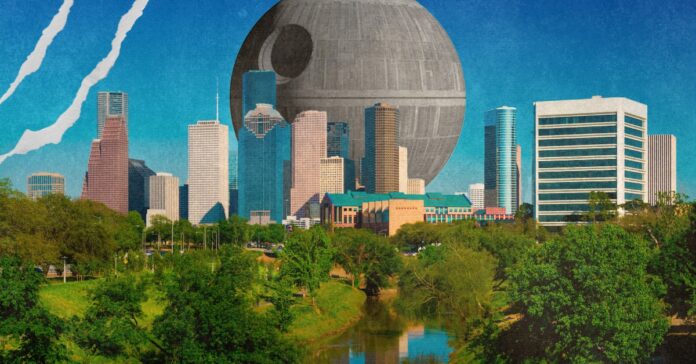 On Monday, Houston city attorneys sued the state of Texas to stop the Texas Regulatory Consistency Act from taking effect. The lawsuit is the first legal challenge to the bill that aims at gutting all kinds of local ordinances.
The bill dubbed the "Death Star Bill" prohibits cities from managing anything beyond what is already covered by state law. The lawsuit filed at Travis County District Court aims to have the new law ruled "unconstitutional" and "unenforceable."
"Houston, like all cities, needs to know with certainty what laws it may enforce, and its residents and businesses need to know with certainty what laws to obey. Laws with preemption clauses cannot be "living" documents, as HB 2127's author asserted in House hearings that HB 2127 would be," the lawsuit says.
This Gov. Greg Abbott-backed bill, cruised through both the Republican-run chambers and undermines regulations placed on local agriculture, insurance, labor, and natural resources codes, among other ordinances.
HB 2127 is aimed at overturning cities' progressive polices and preventing them from enacting those laws. This is the legislature's broadest attack on state government yet — leaving city officials in unfamiliar waters as they are stuck trying to figure out what the full scope of this law is.
"What's vague about this bill is the numerous mentions within those codes where the state plays a regulatory role where I don't know if we're preempted or not," Bill Kelly, the Director of Government Relations at the Mayor's office, told RA News in March. "I mean it should be pretty clear and the legislature should not say, let's just let the courts decide. That is putting taxpayer dollars and the financial situation of the city at risk for court decisions."
Houston's lawsuit also argues the bills vague language, saying that HB 2127, "achieves these unconstitutional ends by using vague language so indefinite, awkward, and opaque that it fails to notify Texas cities which of their laws they may enforce."
The lawsuit says that this conflicts with the legal precedent that requires "unmistakable clarity" to preempt local law in a few cities.
Abbott and business lobbyist groups, such as the National Federation of Independent Business have long wanted a bill like HB 2127. They argue that it is necessary to untangle a "patchwork" of local regulations that burden local business and put the state's economic growth in jeopardy.
"This myth that they are talking about, of a patchwork of regulation that's preventing small businesses from growing, goes completely at odds with the press releases that they put out that talk about Texas's economic powerhouse," Kelly told RA News in March. "It's just you gotta choose a lane here."
The bill nixes local city rules that mandated water brakes and paid sick leave ordinances in Austin, Dallas and San Antonio – that have been prevented from taking effect due to court orders.
"The Texas Constitution expressly champions the local control and innovation that has been key to the tremendous economic dynamism in cities like Houston," said Mayor Sylvester Turner in a statement. "… Houston will fight so its residents retain their constitutional rights and have immediate local recourse to government."
The bill is supposed to go into effect Sept.1.
The governors office did not respond to a request for a comment on the lawsuit.