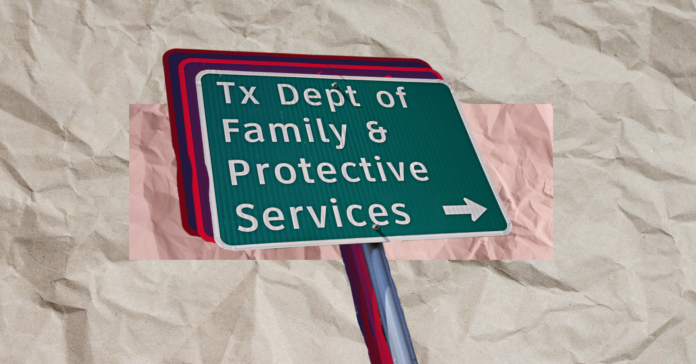 Thanks to an extremely stressful work environment, nearly 2,300 employees have left the Texas Department of Family and Protective Services so far this year, according to the Houston Chronicle. That's more than have left the agency in any of the past five years, stretching an agency that already has a high turnover rate. 
The perennially-underfunded agency, already plagued with scandalous mismanagement of the foster care system and politically-motivated investigations of families of transgender children, can ill-afford the exodus of workers.
Child Protective Services – the division tasked with protecting Texas' most vulnerable citizens – has suffered the most departures. Of the more than 3,000 employees that left DFPS in the 2021 fiscal year, which spans from September 2020 to August 2021, nearly two-thirds of them were from CPS.
The turnover is "absolutely a crisis," DFPS Commissioner Jaime Masters told a federal judge in June. "I have been traveling the state to meet with staff to hear what their concerns are and to see what we can do about it — a lot of it is morale, a lot of it is just the job itself is hard, even when we don't have a 'Great Resignation.' This is a hard job to keep staff in anyway because of the nature of the work."
The agency's most recent exit survey report indicated work-related stress was consistently the top reason why employees left. Aside from other job opportunities, workers cited safety concerns, poor communication, low pay and conflicts with their bosses.
In interviews and at public town halls, employees described a department under enormous stress. Employees reported dangerous overtime shifts watching children in hotels, unmanageable workloads, pressure to close multiple cases a day and mismanagement.
A former director cited the politicization of the Department of Family and Protective Services, questioning why employees were caught up in culture wars – an apparent reference to the investigations into families with transgender children – instead of protecting children.
"The focus has been taken so far away from child safety that I don't want to do this job anymore," said a Houston-area caseworker.
"There have been plenty of cases that have probably been closed that shouldn't be, because there's not time to deal with it, because our supervision is just breathing down everybody's necks," another caseworker said. "It's all about the numbers. They just want s— closed. I don't feel like we're ever talking about child safety."
As caseloads increase, often because of department turnover, employees are also required to take overtime shifts watching children without placement, or CWOP. There are sometimes hundreds of foster children who do not have a permanent placement, so Texas puts them up in hotels and churches, and then requires caseworkers to supervise them.
The employees are not allowed to discipline the children, creating dangerous situations where caseworkers are assaulted and overworked, or helplessly watch while children destroy property or put themselves in dangerous situations.
"CWOP has been the worst issue that has hit us in the 15 years that I've worked here," said a San Antonio-area caseworker. "I have never been so overwhelmed, overworked, exhausted — mentally, physically — defeated, deflated. I can just go through the list. This has been the worst experience."
Although caseworkers have been voicing concerns for more than a year about the unplaced children, many said they are demoralized that department leaders, or Abbott, have not moved to fix the crisis.
"We're waiting for Gov. Abbott to help — send the life raft, send the safety guards, acknowledge that this is a problem, declare it an emergency, and let's get this problem fixed," the San Antonio employee said. "We waited for at least a year for him to do that. … And then you start to make the decision: Do I leave the job that I love that pays my bills? Or do I stay and try to see it through?"
The Texas budget surplus for 2023 is projected to be $27 billion, but the state never seems to have enough to fund DFPS, and it's Texas kids who suffer.