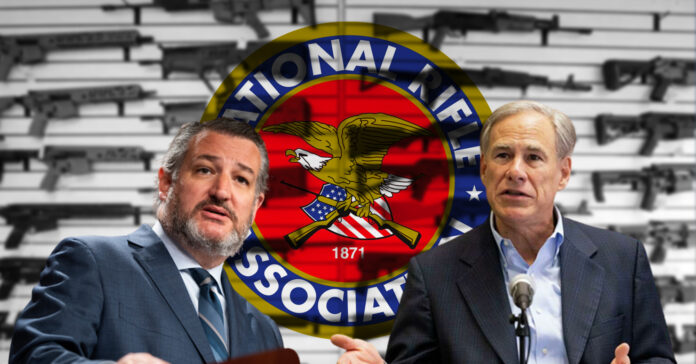 Some of Texas' highest-ranking Republicans will take part in a massive National Rifle Association convention being held in Houston this weekend. Their participation, and long ties to the gun lobby, is seen by some voters as obscene after the school shooting in Uvalde on Tuesday that killed 21 people including 19 children.
The massacre at Robb Elementary School has re-ignited the gun control debate at a very inconvenient time for Texas Republicans, who were looking forward to the NRA convention as a chance to rally their base before the midterm elections. Texas politicians schedule to attend include Governor Greg Abbott and Senators Ted Cruz. Both of them have received significant amounts of money from the NRA over the years.
According to Open Secrets, Greg Abbott has received $5,000 from the NRA since 2014. The NRA Victory Fund, which spent nearly $20 million on promoting Republicans and denouncing Democrats in 2020 alone, has also endorsed Abbott for re-election, giving the governor an A+ rating.
"As both attorney general and governor, Abbott has tenaciously defended the Second Amendment rights of all law-abiding Texans," said Jason Ouimet, NRA-PVF chairman. "His significant impact on the advancement of gun rights cannot be overstated as Texas has become a model for other states to follow."
The NRA's faith in Abbott has been well-rewarded. The governor vowed to make Texas a Second Amendment "sanctuary," and pushed through permitless carry in the last state legislative session.
Both Texas senators have netted tens of thousands of dollars from the NRA. Ted Cruz has received $176.274, and John Cornyn $78,945. Cruz followed the Uvalde shooting almost immediately with a pushback against any sort of gun control. In addition, both of them have received more than $300,000 from various gun rights lobbying groups.
"If you look to the past, we know what is effective, and it is targeting the felons and fugitives and the bad guys," Mr. Cruz told reporters at the Capitol on Tuesday evening according to the New York Times. "But as sure as night follows day, you can bet there are going to be Democrat politicians looking to advance their own political agenda, rather than to work to stop this kind of horrific violence and to keep everyone safe."
As of right now, there is no evidence that the Uvalde shooter was a felon, had been diagnosed with any mental illness, or had any record that indicated he was a "bad guy". He purchased the guns used in the shooting legally.
Previously, Senator John Cornyn was scheduled to speak at the convention, but recently cancelled citing a "scheduling" problem. Representative Dan Crenshaw was also slated to speak but has stated he will not be back from Ukraine in time. Both men are still listed as appearing on the website as of this writing. 
They would not be the first to drop out of the convention. Much of the headlining entertainment talent, including Don McLean, Larry Gatlin, and Larry Stewart have all cancelled. Gatlin went so far as to use his announcement to push for more robust background checks on gun sales, a popular position that has been consistently opposed by the NRA. McLean released a heartfelt statement about his decision.
"In light of the recent events in Texas, I have decided it would be disrespectful and hurtful for me to perform for the NRA at their convention in Houston this week," it read. "I'm sure all the folks planning to attend this event are shocked and sickened by these events as well. After all, we are all Americans."