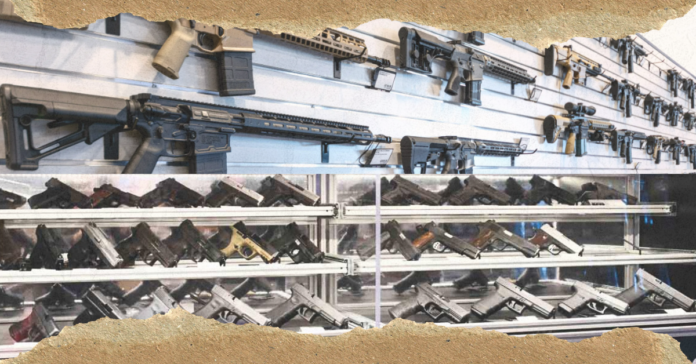 While GOP leaders across the country blame violent crime on Democratic policies, the data indicates that easy access to guns with virtually no restrictions in states like Texas is undoubtedly leading to more deaths by firearm.
Despite the conservative claim, statistically, the most dangerous city in Texas is a major metropolitan area controlled by a Republican, Lubbock. The city has been consistently run by Republican mayors since 2002 and is also one of the most conservative in the state. A 2021 study conducted by SafeWise ranked Lubbock third as the most dangerous city in America.
But who controls city hall is a misleading indicator of crime level. Cities are wealthier, and thus the socioeconomic factors that lead to crime are more prevalent. More people means more opportunities for robberies, more homes means more property to steal.
And more people also means more guns.
In one recent incident, a Houston man who was held up at gunpoint retreated to his vehicle, retrieved his unregistered and unlicensed weapon, and attempted to shoot the robber. But instead, he struck a 9-year-old girl riding in a passing vehicle, killing her instantly.
GOP talking points don't keep innocent people safe, as the number of shootings, both purposeful and accidental, continues to rise in urban areas. Meanwhile, rural areas, mostly under Republican control, are also seeing massive spikes in crime.
According to The Wall Street Journal, rural areas saw an average increase of 25 percent in violent crime over the last couple of years. While this is less than the 30 percent increase seen in cities, it is still large enough to make the case that the increased rates are more due to a confluence of factors, versus party policy and leadership style.
In the year since the passing of the law that allows adults 21 or over to carry a gun without a license, law enforcement has repeatedly dealt with the aftermath of random gun battles on public streets.
Sadly, Texas is not alone, as half the states, not coincidentally all red states, either now have or will soon have virtually unfettered access to guns with no requirement to carry one. State legislative efforts have mirrored federal court efforts to rule in favor of open carry laws, despite blue states trying to regulate them as sensibly as possible in light of the Second Amendment.
An analysis from Third Way, a center-left think tank, illustrates that the 25 states that former president Donald Trump carried in 2020 have a murder rate that is 40 percent higher than those of the states carried by President Joe Biden.
The highest murder rates were in the least urbanized states, such as Mississippi.
In terms of sheer numbers, however, Texas is by far the most populous state to get rid of permit requirements. With five of the largest cities in the nation within its borders, the problem of urban gun violence is hitting unprecedented levels, which is something citizens in other states with similar laws don't face.
Texas, which has a long history of gun culture and gun violence, has perhaps the most complicated attitudes toward open carry access and loosened restrictions.
From border towns to big cities across the state, arguments have flared into shootings in disputes over parking spots, road rage, loud parties, and family gatherings, according to caseloads being worked on by law enforcement.
County Sheriff Ed Gonzalez told the New York Times that "It seems like now there's been a tipping point where just everybody is armed."
The state government has not released any statistics since the law went into effect in September 2021. However, according to federal data, in the wake of mass shootings in Uvalde, Sante Fe, Sutherland, and El Paso, gun purchases in Texas inexplicably rose, staying true to a pattern that has followed most mass shootings for over a decade, according to the Texas Tribune.
As if that's not concerning enough to law enforcement, an estimated 47,000 guns are stolen each year in Texas alone, according to the Center for Gun Violence Solutions at Johns Hopkins University.
But statewide polling following the Robb Elementary massacre, in which 19 children and two teachers were killed, showed that a majority of Texas voters support stronger gun safety laws.
That polling from the Texas Politics Project at the University of Texas at Austin said that 78 percent of voters support requiring background checks on all gun sales and that 66 percent of voters support red flag laws.
Following last week's hospital shooting in the Dallas area, the Texas Board of Pardons and Parole is defending the release of the suspect from prison early, despite a felony conviction, saying it was "not unusual."
So if serving prison time is not a deterrent to gun crime, and more and more guns flood our streets, grave questions remain about what can be done to curb the epidemic trend.
After the most recent school shooting in Uvalde, Democratic gubernatorial candidate Beto O'Rourke confronted Gov. Greg Abbott at a press conference, telling the Republican candidate that the mass shooting is ultimately "on him." He has continued to make gun restrictions and other programs a central campaign issue in his battle for the governorship.
He has long been a vocal proponent of efforts to combat gun violence. He was a presidential candidate when the Walmart in his hometown of El Paso was the target of a racist mass shooter, killing 23 people and injuring 23 others in 2019. He has voiced support for a mandatory assault weapon buyback program.
The City of Houston's Mayor's Commission Against Gun Violence shows that buyback programs work in Southeast Texas, including Houston and Harris County.
So while the debate rages about what to do about gun violence, whether it be homicide, suicide, or mass shooting events, one thing remains a constant — innocent people continue to die, and more guns don't seem to be making us safer.
When gun advocates say guns don't kill people, people kill people — they conveniently fail to cite the crux of the issue — streets awash with weapons make citizens and law enforcement personnel less safe.
To learn more about gun violence in Texas, see the RA News Gun Violence Watch page.