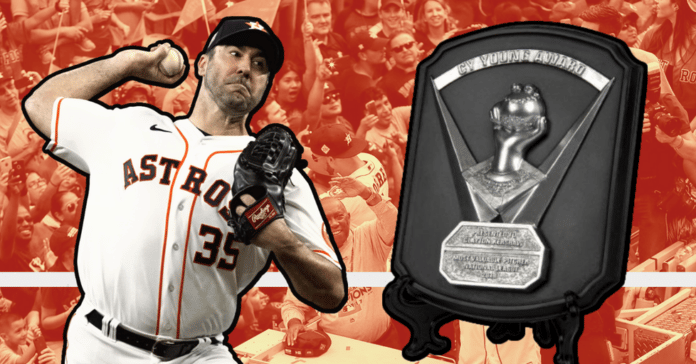 Justin Verlander won his third American League Cy Young in his final season with the Houston Astros by a unanimous ballot. He received all 30 first-place votes in the rankings finishing first, and his Astros teammate Framber Valdez finished fifth.
He became the only player in MLB history to win Rookie of the Year, League MVP, two World Series rings, and three Cy Young awards, per CBS Sports. He also made nine All-Star teams, starting the game twice.
He became one of only a handful of pitchers in MLB history to win the coveted award three or more times. Verlander joins Sandy Koufax, Tom Seaver, Jim Palmer, Pedro Martinez, Clayton Kershaw, and Max Scherzer with three. The only pitchers with more are Roger Clemens (7), Randy Johnson (5), Greg Maddux (4), and Steve Carlton (4).
After his future Hall of Fame career was derailed by a critical injury, a torn ulnar collateral ligament in his pitching arm, he was forced to miss part of the 2020 season, and the entire 2021 season. In September 2020 when he was preparing for Tommy John surgery and the long grueling rehab, he was told that pitchers only return to 89% of their previous abilities and that the rehab would take 12 to 18 months after the surgery.
But at age 39 he came back with a vengeance, having perhaps his best season ever coming off the surgery, posting a career-best 220 ERA+ in 28 starts, and he had the league's highest velocity (95.4 mph) ever recorded by a pitcher at 39 plus years old.
He led MLB with a 1.75 ERA and was first in the AL with 18 wins, and he won his first World Series start en route to his second world championship with the Astros.
"I will always kind of remember this Cy Young as looking back at the growth of me as a father and as a person and just also the rehab and all the hard work that went into the rehab, and just how much I was committed to, 'It was going to go well, and I was going to come back and be me,'" Verlander said on a conference call after claiming the award, per ESPN.
"Positive affirmations only take people so far, obviously, so to actually have it happen I think will just be something that I'll always remember," he added.
Verlander declined his contract option with the Astros for the 2023 season, but he cemented his legacy with the team in two of the best years of his career that helped the team to win their first and second World Series in franchise history.