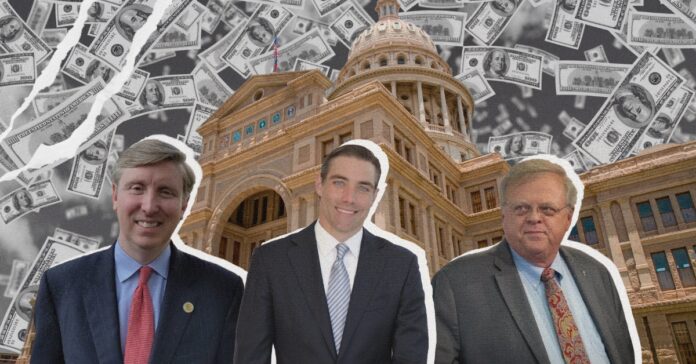 Lawmakers have promised to deliver tax relief to property owners this legislative session but it is unclear whether the House and Senate can reach consensus.
Lawmakers in both chambers support applying funds from the state's nearly $33 billion in revenue surplus to property tax relief.
But the approaches to accomplishing that goal are vastly different.
The Senate has already passed a package of tax relief measures that would produce $16.5 billion in property tax savings over the next two years. The centerpiece of the legislation is Senate Bill 3, which would raise the homestead exemption on school district taxes from $40,000 to $70,000.
The measure carried by Sen. Paul Bettencourt, R- Houston, would also tack on additional tax relief for seniors, 65 and older, by raising the exemption from $10,000 to $30,000. As a result, seniors would benefit from $100,000 in total property tax exemptions.
Senate Bill 4, also authored by Bettencourt, would provide further tax relief by compressing school district tax rates and reducing redistribution, commonly referred to as "Robin Hood," payments for some school districts.
Senate Bill 5, authored by Sen. Tan Parker, R-Flower Mound, would increase business personal property tax exemptions from $2,500 to $25,000. It would also establish tax credits for business inventories.
After the Senate passed the relief package, Lt. Gov. Patrick praised senators for "sharing my commitment to fighting for Texas taxpayers and supporting this key package.
"This historic $16.5 billion tax relief package is responsible and does not trade Texas' future for a better today," he stated.
But Patrick told The Dallas Morning News that we would be unwilling to compromise on the House's pending legislation, which would provide property tax relief through tighter limits on the growth of appraised property values.
House Bill 2, also known as the Property Tax Relief Act, would lower the current state cap of appraised residential property value that can be taxed by school districts from 10 percent to 5 percent for homeowners. The measure would also expand tax relief to other types of property.
"I can't compromise on something I know is not the right policy," Patrick stated.
In endorsing the House plan, Speaker Dade Phelan, R-Beaumont, claims the legislation authored by Rep. Morgan Meyer, R-University Park, would provide more than $17 billion in property tax relief. "We believe it's the largest in Texas history," he stated in an opinion article in the Houston Chronicle.
"That cap would mean that homeowners, renters, business owners, land owners, and owners of any other type of property would have more stability and predictability instead of facing an unexpected and unaffordable, say, 200 percent increase on their property value," he stated.
Phelan criticized the Senate's plan for failing to guarantee lower tax burdens for homeowners if property values continue to rise up to 10 percent a year.
But the House plan faces opposition from some other types of taxpayers, according to the Texas Taxpayers and Research Association (TTARA).
"Unfortunately, appraisal caps don't cut taxes, they simply shift them to other taxpayers," stated Dale Craymer, president of TTARA. "Local jurisdictions adopted higher tax rates than they would have otherwise to make up for the lost value.
"Those higher tax rates added $4 billion to the bills for Texas renters, new homebuyers who aren't eligible for the cap, and businesses," he stated.