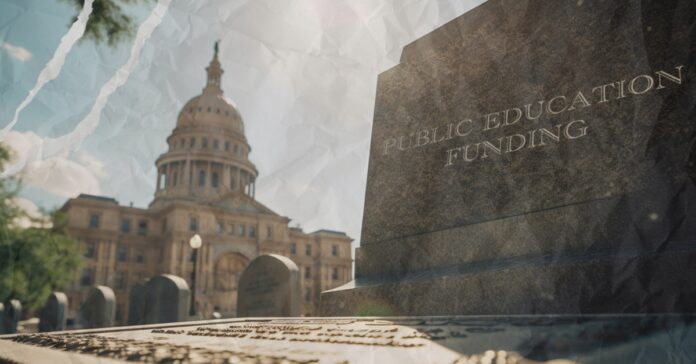 Lawmakers in Texas reached a significant milestone by finalizing a historic budget plan for the upcoming two years, amounting to a staggering $321.3 billion – after boasting the largest budget surplus ever. Nevertheless, the budget has become a subject of intense debate and controversy, primarily due to its failure to address crucial issues, leaving a substantial amount of funds unused.

The budget, known as the General Appropriations Act for 2024-25, includes allocations for various sectors, such as tax cuts, mental health access, state employee pay raises, border security, state parks expansion, and infrastructure development for broadband and water.

Even though it was passed with overwhelming support in both chambers, the contentious policy fights between the House and Senate led to approximately $22 billion worth of commitments being excluded from the budget contingent on certain legislation being passed.

The $22 billion encompasses $4.36 billion earmarked for education, which includes: $500 million earmarked for vouchers and $50 million earmarked for virtual education, both of which didn't pass; and $3.9 billion for school finance formula changes and teacher compensation, which also didn't pass. In addition, $17.6 billion for property tax relief now sits on the table – unused.

Despite having a historic budget surplus, no Texas public school employee received a raise, nor were there significant increases in school funding. Instead, budget writers decided to hold public education funding hostage, setting aside those $4 billion that could only be used if a divisive bill creating a private school voucher program was passed – House Bill 100 ultimately died due to the voucher amendment.

Here is a list of public education funding priorities that died thanks to Gov. Greg Abbott's obsession with vouchers: 
Even though a school safety omnibus bill did pass, public school advocates were concerned with the Senate's underfunding of school safety mandates in the bill for school districts, most of which ultimately were kept in the final negotiated version of House Bill 3.
The amount of money left unspent is triggering criticism from Democrats who said that money could have been used to do more for public schools and teachers.
"Money for a property tax cut doesn't put gasoline in the school bus," said state Rep. Trey Martinez Fischer, a San Antonio Democrat and member of the budget-writing committee who voted against the budget. "Money from a tax cut doesn't put new ovens in the cafeteria. It does nothing to fix the leaky roof in the gym or pay more for food service workers and bus drivers. I worry there is no safety net if these contingencies do not come to pass."
Not only did important public education funding bills fail, but also other key priorities in critical areas such as grid infrastructure, gun safety, and elections. Here is a list of other bills that died this legislative session:
Health: Medicaid Expansion, Student Mental Health Allotment, and Automatic Enrollment of Children into Medicaid/CHIP.

Gun Safety/Gun Violence Prevention: Raising the Age to Purchase a Firearm from 18 to 21, Background Checks, Red Flag Law, and Assault Weapon Ban.

Grid/Infrastructure: Raise Energy Efficiency Goals and Fund Energy Efficiency Programs, Electricity Consumer Protections, Mandate All Natural Gas Supply Infrastructure Weatherize and Increase Penalty For Lack of Compliance, and Demand Solutions (Including Demand Response.)

Elections: Online Voter Registration.