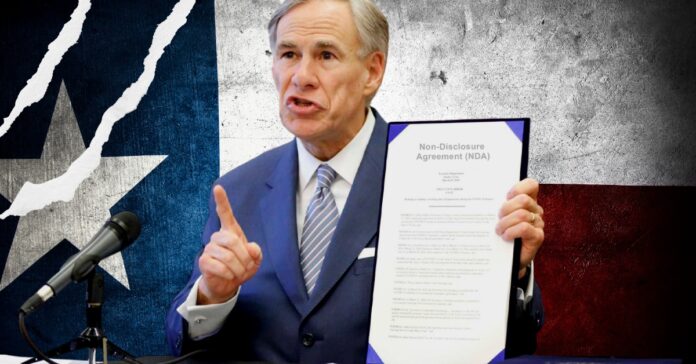 Governor Greg Abbott is apparently very keen to keep the State of the State speech tonight as much of a secret as possible. He attempted to make lawmakers and other attendees sign non-disclosure agreements, though he has since walked that back.
A memo obtained by USA Today showed that Abbott wanted to prohibit attendees from being able to talk about the content of the speech and to leave their cellphones at home. The NDA requirement was rescinded, but the cellphone requirement will still stand.
The NDA move adds another layer of secrecy to the event. Unlike previous State of the State addresses that were held during daylight hours in the Capitol, this one will be held at 7 p.m. at the Noveon Magnetics Corp. facility six miles outside San Marcos. No reporters will be allowed on the premises except a single camera crew.
Reportedly, Noveon asked for the NDAs to prevent corporate espionage. The company makes magnets.
The State of the State will layout the legislative priorities for the next 140 days. Abbott has already signaled that these will include highly controversial regressive culture war agenda items like preventing trans athletes from competing in public universities and prohibiting diversity hiring initiatives in state agencies. Abbott has called for a massive rollback of property taxes thanks to a $30 billion budget surplus, though has also supported less thorny issues like a pay raise for teachers.
Front and center on the table is likely to be his plan for an Education Savings Account or school voucher system. Despite the unpopularity of the idea and significant pushback from rural Republicans, Abbott has backed a voucher program pushed by oil moguls like Farris Wilks and Tim Dunn that critics say would only funnel money from public schools to rich private urban or suburban religious ones.
The movement of the State of the State is puzzling. While the address was moved in 2021 for COVID concerns, having it at a corporate location that is actively discouraging transparency rather than at a government-owned facility sets bizarre priorities.
It's possible that Abbott wants to re-establish himself as a pro-business politician. The ongoing social backlash led by Texas Republicans has been putting a dent in the normally strong relationship between big corporations and the conservative party for years now. Promises of low taxes and lax regulation are being superseded by attempts to prevent companies from helping employees get reproductive health care or divest holdings from gun manufacturers. Perhaps by addressing the state from a factor, Abbott hopes to shore up his image as a friend to Big Business.
Regardless, the attempts to keep the State of the State address far more secret than usual are not encouraging. Texas Democrats are certain to have opinions about the many socially regressive agenda items likely to be mentioned, and preventing them from discussing the matter would have been a grave affront to their duty to their constituents.