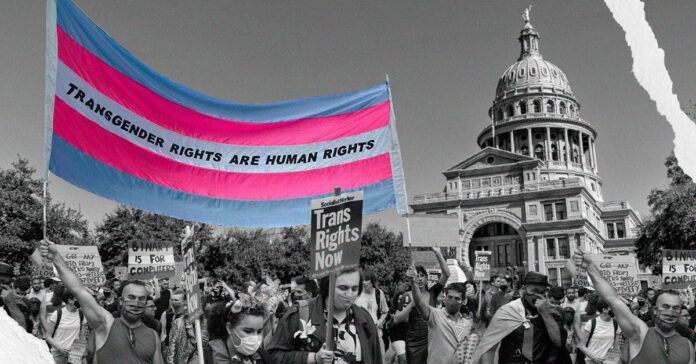 The Texas Legislature is moving forward with a bill that would ban minors from seeking access to puberty blockers and hormone therapies. Senate Bill 14 (SB 14), which has been labeled a legislative priority for the Republican Party of Texas, was passed by the Senate with a vote of 19-12 and has now been sent to Governor Greg Abbott for consideration.
If SB 14 becomes law, it would take effect on September 1, making Texas one of over a dozen states that restrict transition-related care for transgender minors. The bill, authored by Senator Donna Campbell, a Republican from New Braunfels, seeks to prohibit Texans under the age of 18 from accessing transition-related medical treatments such as puberty blockers, hormone therapies, and surgeries. However, surgeries on minors are already rare.
Furthermore, SB 14 would require transgender youth who are currently receiving this care to be gradually taken off these treatments in a medically appropriate manner, as opposed to the abrupt cutoff mandated in the original Senate version of the bill. Despite this difference, the Senate has opted not to seek a conference committee to reconcile the two versions.
Supporters of the bill, including Campbell, argue against the research and science behind transition-related care, claiming that the legislation is necessary to protect Texas families from healthcare providers they perceive as taking advantage of a "social contagion." They believe that such providers are pushing life-altering treatments onto children who may later regret them. Senator Bob Hall, a Republican from Edgewood, emphasized the role of the Legislature in protecting children, likening the ban on transition-related care to existing restrictions on smoking, drinking, and lottery card purchases.
However, medical groups, transgender Texans, and their families vehemently oppose the ban, arguing that access to this care is crucial for the mental health and well-being of trans youth. They emphasize that the process of accessing transition-related care is time-intensive and involves multiple required medical evaluations. Critics warn that even the House version's proposed tapering off process would still cause physical discomfort and psychological distress, particularly for a group already at a higher risk of depression and suicide compared to their cisgender peers. Detractors have referred to it as forced detransitioning.
Should Governor Abbott support SB 14 becoming law, the ban would take effect on September 1. At the time of reporting, Abbott's office had not provided a comment on the matter. In 2022, however, the governor directed the state's child welfare agency to investigate parents who allowed their transgender children access to transition-related care on grounds of potential child abuse.
If enacted, Texas, home to a significant transgender community, including around 30,000 teenagers aged 13 to 17, would join a growing number of states that limit transition-related care for trans minors. Legal challenges from groups such as the American Civil Liberties Union (ACLU), the ACLU of Texas, Lambda Legal, and the Transgender Law Center are expected, with plans to contest the legislation's constitutionality.
The looming possibility of losing access to crucial treatments has prompted many parents of transgender children to consider seeking care out of state or even leaving Texas altogether, options that are financially burdensome and not accessible to all. Some have also expressed reluctance to abandon the communities they cherish or that have been part of their families for generations.
Senator José Menéndez, a Democrat from San Antonio, voiced his concerns about the potential harm caused by the bill, expressing hope that every child affected by SB 14 would have the opportunity to grow up and witness a brighter future. Critics continue to assert that the discriminatory and bigoted nature of the legislation will not withstand legal scrutiny and is contrary to the principles of equality and