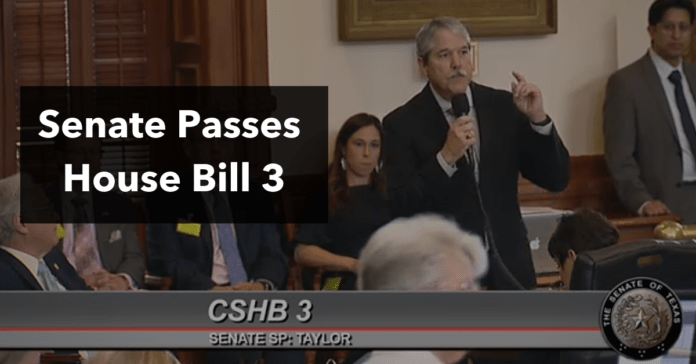 Tenth in an ongoing series
The Follow the Freshman series has focused on how freshmen legislators communicate with their constituents through social media. With the end of the 86th session of the Texas Legislature on the horizon, Reform Austin will take a break from social media this week and look at bills filed by Texas House freshmen.
The Texas Legislature is only in session for 140 days. With all 181 lawmakers typically submitting legislation, many bills do not get a vote or even get approved by committees for votes by either or both chambers of the Texas Legislature.
On May 10th, the House had a deadline to move remaining bills from the House and to the Senate. After this date, all other consent house bills are dead. Out of the many bills filed, how many did the House freshmen manage to keep alive and move into the Senate?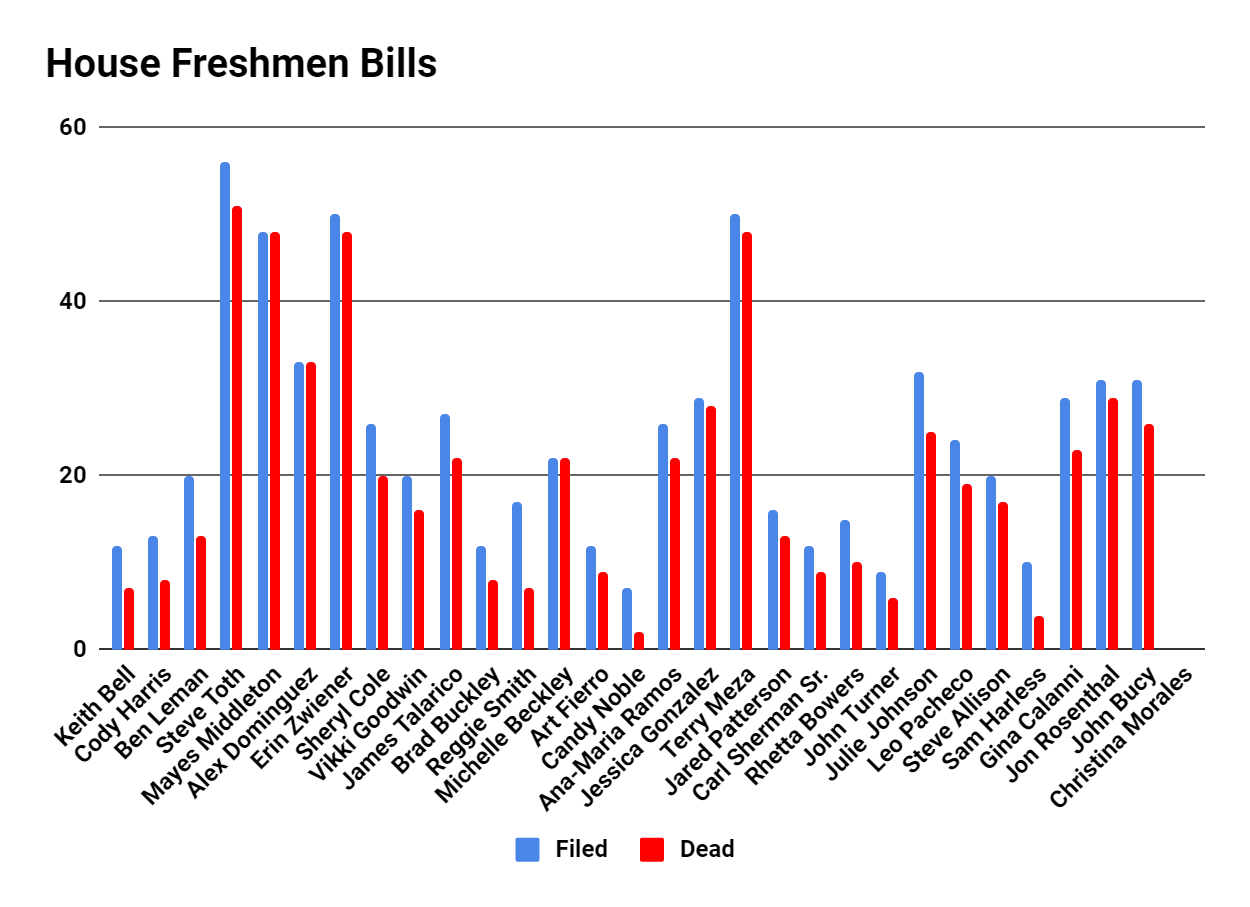 House Freshmen bills comparison*
House Freshmen
Four ambitious freshmen filed 48 or more bills this session. Those legislators are Rep. Steve Toth (R – The Woodlands) – 56, Rep. Mayes Middleton (R – Wallisville) – 48, Rep. Erin Zwiener (D – Driftwood) – 50, and Rep. Terry Meza (D – Irving) – 50. Out of the bills they filed, Rep. Toth managed to keep the most bills, 5, alive and are currently in the Senate. Rep. Middleton had 1, Rep. Zwiener had 2, and Rep. Meza had 1.  
The freshmen representative who filed the least number of bills are Rep. John Turner (D – Dallas) and Rep. Candy Noble (R – Allen). Rep. Turner had filed nine bills with three having potential to become law. Rep. Noble filed seven bills with five being moved into the Senate and one already sent to the governor.
Rep. Reggie Smith (R – Sherman) managed to move 10 of his 17 bills out of the House, the most out of all House freshmen. While Rep. Michelle Beckley (D – Carrollton), who filed 22 bills, had none.
The average number of bills still alive among the freshmen House is about 4.
Rep. Ben Leman (R – Anderson), Rep. Art Fierro (D – El Paso), Rep. Candy Noble (R – Allen), Rep. Jared Patterson (R – Frisco) have all had one bill sent to the Governor Greg Abbott's desk. Rep. John Bucy (D – Austin) has two and Rep. Cody Harris (R – Palestine) has three bills.
Some of the notable bills filed with the potential bills becoming law are: Rep. Rhetta Bowers (D – Garland) HB 2027, which would help Texas juveniles in providing the resources and information needed to seal their records as to not affect scholarships and school and job applications, Rep. Sam Harless (R – Spring) which ensures spouses of Texas military members still have access to in-state tuition opportunities when their military spouse deploys to another state.
Other notable bills on Gov. Abbott's desk are Rep. Harris' HB 2196, which allows alcohol to be sold on the Texas State Railroad Authority property to encourage tourism in Palestine, TX. Rep. Bucy's HB 1241 creates transparency and access to voting information to ensure Texas voters have the right location, time, and date.
The Senate has a May 22nd deadline to consider all bills and joint resolutions on 2nd or 3rd reading. With this next deadline coming up in less than a week, which freshmen legislators will take action into pushing their bills be heard and reach the governor in time for him to sign?
Reform Austin will continue tracking the freshman legislators in this ongoing series.
*Reform Austin would like to note Christina Morales was unable to file a bill as she was sworn into office after the March 8th bill filing deadline.