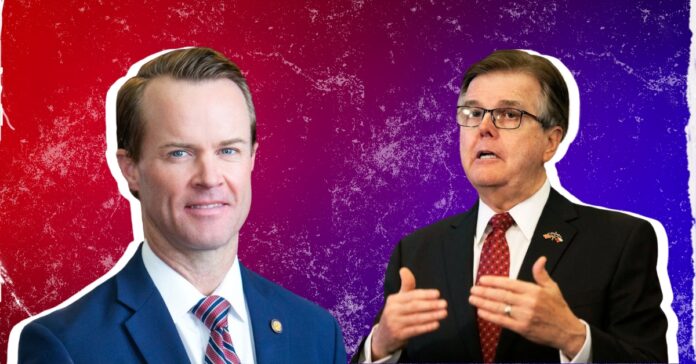 With the Texas 88th Legislative session right around the corner, Lt. Gov. Dan Patrick unveiled a list of 21 legislative priorities, which include a wide array of subjects, from tax relief to border security. On the other hand, his colleague, Texas House Speaker Dade Phelan has yet to make public what's on his agenda for the upcoming year.

Patrick's legislative priorities came shortly after the Legislative Budget Board, a panel of lawmakers led by Patrick and House Speaker Dade Phelan, voted to allow legislators to spend about $12.5 billion more in the next budget than the last cycle.

Patrick, as Lt. Gov., presides over the Senate and wields tremendous power over legislation, and Phelan, as speaker of the Texas House, helps decide when and whether legislation reaches the floor. He also appoints committee chairs, typically picking members who agree with him on critical issues, according to The Houston Chronicle.

It is not uncommon for there to be normal tensions before a legislative session on priorities between Patrick and Phelan. And even though Phelan has not laid out his legislative priorities, he has been vocal on several topics in which he differs from Patrick, including education, election laws, and tax relief.

Education
Patrick, the Republican who oversees the Texas Senate, announced in February that he wants to end eligibility for tenure for all new hires at public universities, as reported by The Houston Chronicle.

This practice would grant professors job security allowing them to embrace critical race theory, an academic movement that has become a boiling point in Texas politics. Last year, the Republican-led Legislature approved a measure that would ban the subject from K-12 schools.

When asked about Patrick's proposal, Phelan told Texas Tribune journalist and CEO Evan Smith that he was open to changing certain aspects of Texas' tenure system but "respectfully disagrees" with vetoing it all together.

"I can just tell you, in my time talking to folks at the University of Texas, they'll tell you it's hard to recruit conservative professors without tenure," said Phelan, a Republican from Beaumont.

When it comes to vouchers being a legislative priority or not, both have been very obscure.

Patrick did not overtly include private school vouchers on his list, but he did have "the need to empower parents by giving them a voice in their children's education." Many public school advocates feel that this language might signal support for vouchers.
Meanwhile, in September, Phelan seemed to cast serious doubt on the passage of a private school voucher program in the Texas House. Speaking at a meeting of the annual Texas Tribune "Trib Fest", Phelan stated, "I haven't seen a package put forth (for this upcoming legislative session) to say that's a voucher, that's not a voucher, but the pure voucher voter has always really failed."

Since 1995 the Texas House has been the chamber of the legislature that has consistently rejected vouchers. With pressure on members, will Speaker Dade Phelan be able to hold the line that other speakers have held?

Tax Relief

The 88th Legislative session expected a $27 billion budget surplus to spend on state projects, and Patrick said he would prioritize spending some of that surplus on property tax relief in the form of increasing the homestead exemptions for homeowners.

Patrick said half of the surplus could not be used for property tax relief efforts -differing with Gov. Greg Abbott – without breaking a constitutional spending cap set by the Legislative Budget Board.

To address that, Patrick said state Sen. Charles Schwertner, R-Georgetown, would propose a bill this upcoming session that would allow lawmakers to save more money in the state's rainy day fund, as reported by The Texas Tribune.
Meanwhile, at a lunch with the Transportation Advocacy Group-Houston Region, Phelan warned that the state is woefully behind on maintaining and expanding its infrastructure — from roads to broadband internet — and cannot promise long-term tax relief with a surplus that may not be there in two years.

"I guarantee you in 2025 there will not be a $30 billion surplus," he told TAG members, noting the state's budget is going to grow simply because of inflation. "No one is considering what it is going to cost to run the government."

Election Laws

Patrick also said the state needed to tighten its election laws again. One of his main priorities was to make illegal voting a felony again – last year it was downgraded from a second-degree felony to a Class A misdemeanor.

Patrick and Abbott have called on lawmakers to reverse the change since last fall, calling for stiffer penalties for illegal voting. Phelan, at the time, said that it was "not time to re-litigate" the legislation known as Senate Bill 1. But he could be swayed to make the change during this year's Legislature.