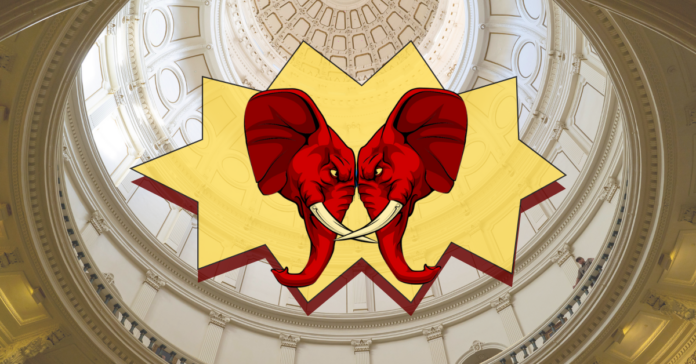 As the 88th Legislature takes off, Texas GOP members have been quick to fall back into their usual pattern of infighting.
Right off the bat, we saw Rep. Tony Tinderholt and Rep. Matt Rinaldi challenge House Speaker Rep. Dade Phelan over banning Democratic Committee chairs – a practice that they failed to block. And then, last week, Lt. Gov. Dan Patrick blasted Rep. Steve Toth, over Toth's recent comments about how "gender modification" legislation previously failed in the Texas Legislature.

Why are Republicans at each other's throats?

Phelan has publicly defended appointing chairmanship to Democrats, who are in the minority. For "extreme" Republicans, like Tinderholt, Rinaldi, and Rep. Bryan Slaton, this could not fly.

"If you are Republican and you were not speaking loudly against this then why are you even in office?" Rinaldi posted on Twitter.

Slaton filed proposed amendments to the rules on Jan. 11 that would have blocked Democrats from being named to chairmanships – six House Republicans backed at least one of Slaton's amendments, as reported by The Epoch Times.

In the end, the attempt to block the practice failed, but will not be forgotten by the Texas GOP, who kept a running tally of House republicans who opposed awarding chair positions to Democrats.
Ever since 2021, when Phelan appointed 13 Democrats to chair committees, the fight against Democratic chairs has been growing more vocal. Republicans point to bills that struggled to pass that year as an example of why Democrats should not chair key committees.

Angry at Phelan, the Republican Party launched a radio ad attacking Phelan for "teaming up with the Democratic party to kill Republican priorities."

According to a tweet from Rinaldi, the spot started running Wednesday in Phelan's Southeast Texas district.

"Call Dade Phelan today," the ad tells Phelan's constituents. "Tell him to be a Republican. Tell him to stop empowering Democrats. Tell him to listen to the 85% of voters who support banning Democrat chairmanships."

While Phelan did not comment on the ad, two of his allies in the House fired back on Twitter. Rep. Dustin Burrows called Texas GOP "Hypocrites" for funding attacks on a Speaker who helped them pass the Heartbeat and Trigger Bills. And Rep. Charlie Geren accused Rinaldi of "spending more attacking a conservative Republican speaker than he did to help elect Republicans."

The Democratic Chairs argument has not been the only Texas GOP argument gaining attention…

In another episode of Family Feud, Toth went after Patrick while talking to some Convention of States supporters, according to a secret recording that's being promoted by Tim Dunn's Texas Scorecard. 
In that recording, Toth says the Senate in 2021 acted late in the session on a "gender modification" bill, in contrast, Toth says the House moved quickly on a "constitutional carry" of handguns – allowing the Senate to take its time in passing a version of the bill and send it back to the House, as reported by The Quorum Report.
"You can't just blame the House for this," Toth says of the gender modification bill. "The reality is that if any of the Big Three would have wanted it, we would have gotten it."

An angry statement from Patrick's campaign called Toth's allegations "foolish lies."

"Rep. Steve Toth's irrational accusations against the Texas Senate and Lt. Governor Patrick for the failure to pass protections against child gender mutilation are blatantly false,"  Patrick's campaign said.

"Toth's baseless allegations and misplaced blame have cost him any shred of credibility."
Everything about this stinks of 2019's political scandal Bonnghazi, where former Republican House Speaker Dennis Bonnen's secret recording trashing other Republicans was aired. In the recording, Bonnen was urging conservative activist Michael Quinn Sullivan to target members of their own party in the 2020 primaries, in exchange for media access to the House floor in the next legislative session.

Bonnen could also be heard speaking disparagingly about multiple Democrats, calling one House member "vile" and suggesting that another's "wife's gonna be really pissed when she learns he's gay," as reported by The Texas Tribune.

The scandal blew up and in the end, Bonnen announced he would not seek reelection to the Texas House in 2020, and consequently, to the speakership.

Will GOP Cannibalization Influence The 88th Texas Legislature?

It is no surprise to see that this early in the session the Texas GOP party is at each other's throats, however, what could this mean for the Texas 88th Legislature?

We have the extreme members of the party like Mr. Tinderholt, trying to eat the rest of the party, drawing attention away from the legislative priorities. Very good legislation could die in the House just because internal beef is in the way. Hopefully, the Republican Party in Austin will start making up, to start focusing on what will raise Texans' quality of life, like education, infrastructure, and healthcare.